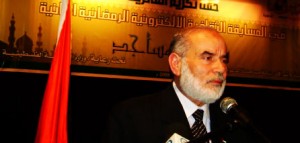 Dr. Ahmed Bahar, First Deputy President of the Palestinian Legislative Council, condemned the Zionist occupation crime on Monday evening (18-1) when it opened the channels and water dams at Gaza valley, causing the sinking of dozens of homes.
He said in a statement that this is a new war crime; calling on the relevant authorities for the immediate relief to families displaced by rain water flooded their homes.
He stressed that the Zionist government bears full responsibility for the safety of the people of the region and all the effects and negative consequences suffered by them.
He also stressed that the Palestinian government will follow-up this Zionist crime and document it in the new framework document of war crimes committed by the Zionists, stressing that the members of the Legislative Council and all the sons of our people will have rest until the leaders of the occupation be provided to international justice.
Dr. Bahar called the relevant authorities to address the crisis quickly and to initiate the relief of the bereaved families displaced by water, and to put urgent plan to confront the consequences of the Zionist crime.
Also, he called League of Arab States and the world community to express their stance against this aggression, and to stop all criminal acts committed by the occupation.
He demanded the international community to curb Zionist aggression, appreciating the efforts of relevant parties in the civil and defense ministries to save the citizens.