Syria
Dr. Bashar Hafez al-Assad submits presidential candidacy application to Supreme Constitutional Court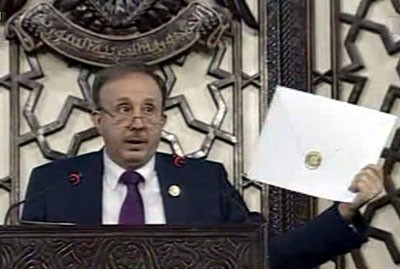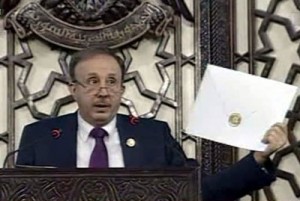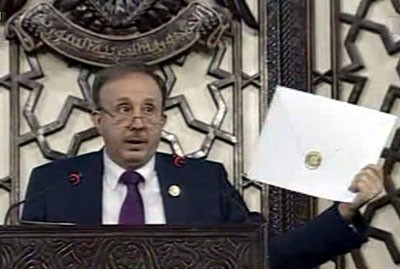 Dr. Bashar Hafez al-Assad submitted on Monday a presidential candidacy application to the Supreme Constitutional Court.
Speaker of the People's Assembly, Mohammad Jihad al-Laham, announced that the Assembly received a notification from the Supreme Constitutional Court stating that Mr. Bashar Hafez al-Assad, born in Damascus in 1965 and his mother's name is Anisa Makhlouf, submitted an application on April 28th, 2014 for presidential candidacy and he also submitted the required documents according to article 21st of the Supreme Constitutional Court's law.
The Supreme Constitutional Court said that Mr. al-Assad's application was added to its registry under number 7 dated April 28th, 2014, and pursuant to the regulations of the Syrian Arab Republic's constitution, the law of the Supreme Constitutional Court and the General Elections Law, the Court is informing the People's Assembly of this application for MPs to be notified and practice their constitutional right whether they desire to back the aforementioned presidential candidate.
Speaker al-Laham pointed out the People's Assembly received a letter from Dr. al-Assad announcing submitting a presidential candidacy application along with the required documents.
Al-Laham added that Dr. al-Assad asked for informing the members of the Assembly of his candidacy application, wishing to win their written support.
Earlier, Speaker of the People's Assembly received notifications from the Supreme Constitutional Court stating that Maher Abdul-Hafiz Hajjar, Hassan al-Nouri, Mohammad Firas Yassin Rajjouh, Abdul-Salam Youssef Salameh, Sawsan Omar al-Haddad and Sameer Ahmad Mo'alla submitted applications to the Court announcing their candidacy for President of the Republic.
The Higher Constitutional Court started receiving the applications of candidacy as of April 22nd until May 1st, 2014.
Biography of Dr. Bashar Hafez al-Assad:
• Born on 11 September 1965 in Damascus to Hafez al-Assad and Aniseh Makhlouf.
• Attended Laique School in Damascus before moving to the Frere School where he completed his high school education in 1982.
• He joined the Baath Party in 1979.
• He studied medicine in Damascus University and graduated in 1988.
• During his third year at university he joined the Armed Forces.
• After qualifying as a doctor, he specialized in Ophthalmology and trained in Tishreen Military Hospital.
• From 1992-1994 he continued his specialist training in the renowned Western Eye Hospital in London.
• When he returned from the UK he joined the Military Academy to continue his military training.
• In addition to his military and medical commitments, he presided over the Syrian Computer Society from 1996-2000 and played an instrumental role in advancing the use of technology throughout the country, most notably the introduction of the Internet and free access to ICT training.
• He was elected President of the Syrian Arab Republic in July 2000 and was re-elected to a second term in May 2007.
• He married Asma Akhras in December 2001. They have three children: Hafez, Zein and Karim.