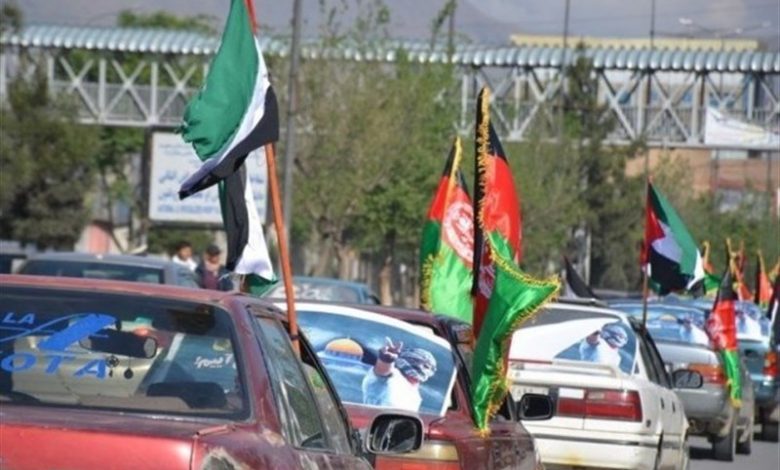 Young people in the Afghan capital expressed their support for the Palestinian people by carrying Afghan and Palestinian flags and using "FreePalestine" posters.
According to the Tasnim news agency, the youths in Kabul announced their support for the Holy Quds and the Palestinian people today on Friday, on the occasion of World Quds Day, by launching car drive-in rallies and chanting "Quds, we are coming".
"If we have a spatial distance from Palestine, but our thoughts and beliefs have brought us closer together," said Abu Naeem, one of the young participants, adding, "A number of young people decided to express the support for the people of the sacred Quds and the oppressed Palestinians by launching drive-in rallies carrying Afghan and Palestinian flags."
"We believe that showing the legitimacy of the Palestinian nation's struggles against the Zionist regime of Israel and the legitimacy of the support by Muslim countries, especially Afghanistan, for these struggles, shows the ugly face of Israel in the eyes of Muslim nations and the media," Abu Naeem noted.
The International Quds Day is an annual event during which demonstrators express their solidarity with the Palestinian people and opposition to the occupation of the Palestinian territories by the Zionist regime of Israel.
The day is seen as the legacy of the late founder of the Islamic Republic of Iran, Imam Khomeini, who officially declared the last Friday of the holy month of Ramadan as International Quds Day back in 1979.
Iran is marking the International Quds Day today, although demonstrations are not going to be held due to the coronavirus restrictions.
Leader of the Islamic Revolution Ayatollah Seyed Ali Khamenei will deliver a speech on Friday in celebration of the International Quds Day.