Africa
Ebola moving faster than aid groups: MSF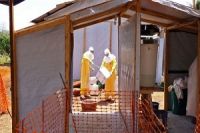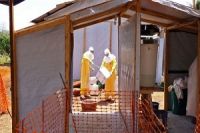 Medical charity group Doctors Without Borders has warned that the Ebola outbreak is moving faster than aid organizations can handle.
"It is deteriorating faster, and moving faster, than we can respond to," Joanne Liu, the president of the group, known by its French acronym MSF, said on Friday.
It may take six months to control the disease, Liu added.
"It is like wartime. I don't think we should focus on numbers. To really get a reality check, we're not talking in terms of weeks, but months" to get the upper hand.
The MSF's warning came shortly after the World Health Organization said "extraordinary measures" are needed to tackle the outbreak.
Meanwhile, the UN is going to provide food aid for one million people in Ebola-hit areas.
The disease has already killed 1,145 people in West Africa. It has mainly affected Guinea, Liberia, Nigeria and Sierra Leone.
But some people from other parts of the world including the US have also contracted Ebola after visiting the West African nations.
There is currently no known cure for Ebola, a form of hemorrhagic fever whose symptoms are diarrhea, vomiting and bleeding.
The virus spreads through direct contact with infected blood, feces or sweat. It can also be spread through sexual contact or the unprotected handling of contaminated corpses.
Ebola was first discovered in the Democratic Republic of Congo in 1976 in an outbreak that killed 280 people.
It remains one of the world's most virulent diseases, which kills between 25 to 90 percent of those who fall sick.