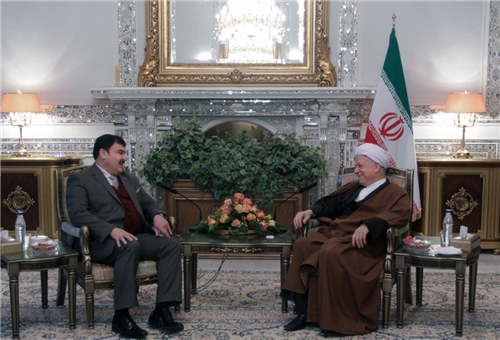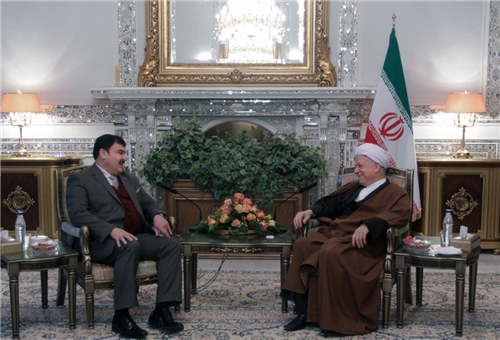 Chairman of Iran's Expediency Council Akbar Hashemi Rafsanjani underlined Afghan forces' capability to establish peace and security in their country, and said the occuping forces should leave Afghanistan.
Hashemi Rafsanjani made the remarks in a meeting with Afghan Minister of Higher Education Abidullah Abid in Tehran on Wednesday.
During the meeting, he expressed pleasure with the relative stability in Afghanistan, and said occupiers should leave the country and let the Afghans handle their own affairs because they themselves are familiar with their domestic issues and have real sympathy towards their homeland.
Describing internal differences as very detrimental to the country both at present and in the future, Rafsanjani noted that security and unity are among the essential needs of the country and all tribes and ethnic groups should accept that Afghanistan belongs to all of them.
Late in April, Iran warned that the foreign forces' presence in Afghanistan has fanned insecurity and increased drug cultivation in the war-torn country and the region.
"There is evidence that the total plots of land in Afghanistan under puppy cultivation will triple next year and as a result, we will witness a tsunami of narcotics and drug trafficking that will not only affect Afghanistan's neighboring countries but will also have an impact on the whole region and the world," former Iranian Foreign Minister Ali Akbar Salehi said.
During the "Heart of Asia Ministerial Conference" in Almaty, Kazakhstan, Salehi stressed that the withdrawal of outsiders will help solve the existing problems.
As a neighbor to Afghanistan, the Islamic Republic of Iran has a strong conviction that in this regard "a responsible reaction" by the Afghan government and regional countries will safeguard the future of the regional countries against such threats, he added.