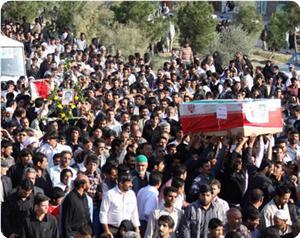 Ecuador and Norway have condemned a recent terrorist attack in southeastern Iran that killed at least 41 people, including some military commanders.
The terrorist group Jundallah has claimed responsibility for the bombing that was carried out in Sistan-Baluchestan Province on Sunday.
Ecuadorian Foreign Minister Fander Falconi in a telephone conversation with his Iranian counterpart Manouchehr Mottaki on Wednesday voiced sympathy with the relatives of those killed in the attack and highlighted the necessity for fighting against terrorism.
The two top diplomats also reviewed the latest regional and international developments and called for expansion of ties between the two countries, a statement by the Iranian Foreign Ministry said.
This is while the Norwegian Foreign Minister Jonas Gahr Store also termed the terror attack as a "very tragic situation".
"Norway deeply deplores this terrorist act. I wish to express our sympathy for those who were injured or lost loved ones in the attack," Store was quoted by Xinhua as saying.
The UN Security Council had earlier condemned the terror attack.
"The members of the Security Council condemned in the strongest terms the deadly terrorist attack that occurred in the border city of Pishin in Iran on 18 October 2009," said Le Luong Minh, the ambassador of Vietnam, which holds the rotating presidency of the council this month.