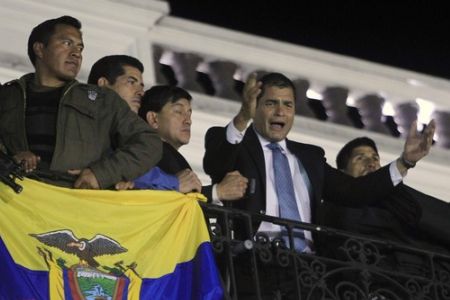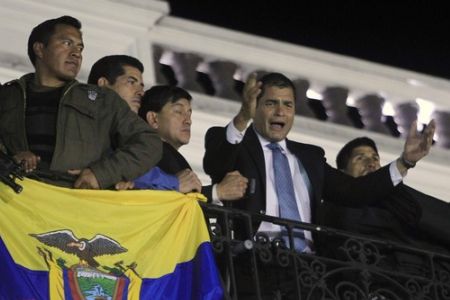 Ecuador's President Rafael Correa has reached the presidential palace after leaving the hospital where he had taken refuge in the capital city of Quito.
Correa was taken to the National Police Hospital after he was shoved and tear-gassed while he was trying to talk to the insurgent police. He was trapped in the hospital for more than 12 hours.
Ecuadorean soldiers rescued the president in a 35-minute operation firing automatic weapons and concussion grenades.
At least two policemen were killed during the operation, the Reuters reported.
74 people were also reportedly injured throughout the day of unrest.
Countries and organizations from all around the world reacted to the event.
Miguel Insulza, the head of the Organization of American States, had called the situation "a coup d'etat in the making," the associated Press quoted.
US Secretary of State Hillary Rodham Clinton also reacted to the crisis saying, "We urge all Ecuadorians to come together and to work within the framework of Ecuador's democratic institutions to reach a rapid and peaceful restoration of order."
UN Secretary General Ban Ki-moon on Thursday also expressed support for Correa.
"He expresses his strong support for the country's democratic institutions and elected government," the AFP quoted a spokesman for Ban.
Talking from the presidential palace to his supporters who were cheering his rescue, Correa said, "There were lots of infiltrators, dressed as civilian and we know where they were from."
He however did not mention any more details.
The police rebellion was triggered by a legislation passed in the country's Congress on Wednesday ending the practice of granting military and police medals and bonuses with each promotion and extending from five to seven years the period required for a promotion.