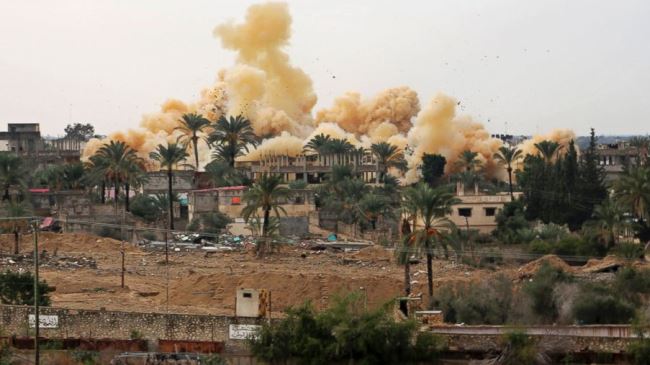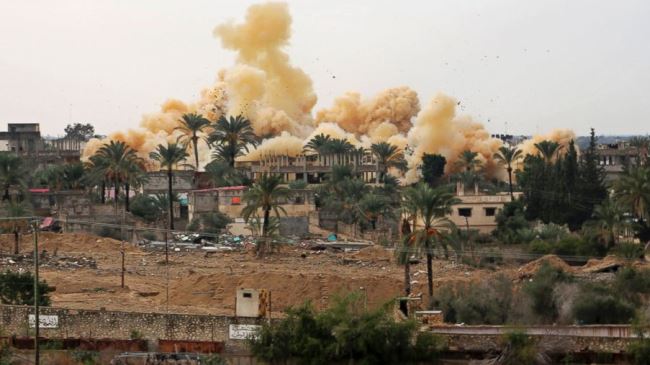 Egypt's army continues to raze hundreds of homes in Sinai Peninsula in an effort to evacuate its residents from the areas along the border with the besieged Gaza Strip.
Egyptian troops have cut off electricity and water, firing warning shots in the air to force thousands of residents to leave their homes in the Sinai Peninsula.
Cairo announced the demolition plan following an attack by unknown gunmen on a checkpoint in the volatile region that killed dozens of soldiers on October 24.
Egypt says it plans to destroy 800 homes to set up a buffer zone near the border with Gaza.
The government had ordered the area's 10,000 residents to pack up and leave before they would destroy their homes.
The forced evacuations have angered residents of the border areas.
"We have no options but silence and lining up behind the military. This is not the time to clash with the state because any clash with the state will be perceived as a betrayal to Egypt," said Said Aitaq.
The Egyptian opposition, led by the Muslim Brotherhood, has denounced the army operations in Sinai as "fascist."
The opposition says it is concerned by the compulsory deportation of residents, the lack of fair compensation for those who agree to leave their homes, and the likely grim fate awaiting those who might resist.
Opposition parties have stressed that the citizens of Sinai should not pay the price for the failure of security forces to fight terrorism.
The Revolutionary Council and the Cairo Declaration Movement also warned the authorities against the move, saying the so-called security buffer zone in Sinai is part of an old Zionist plot aimed at preventing residents from developing and protecting the strategic peninsula.
The Sinai Peninsula has long been considered a safe haven for gunmen who use the region as a base for their acts of terror.