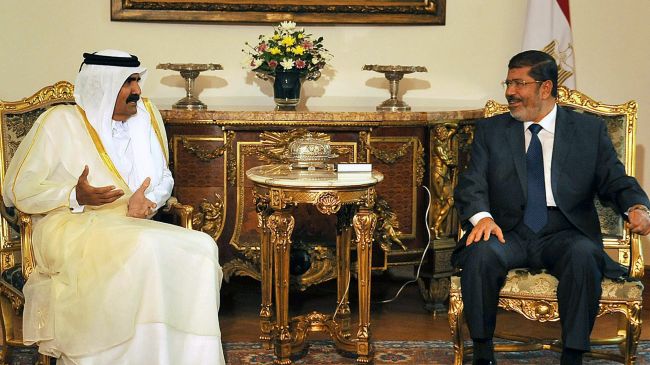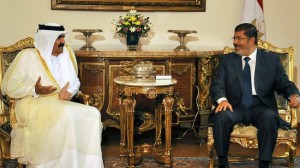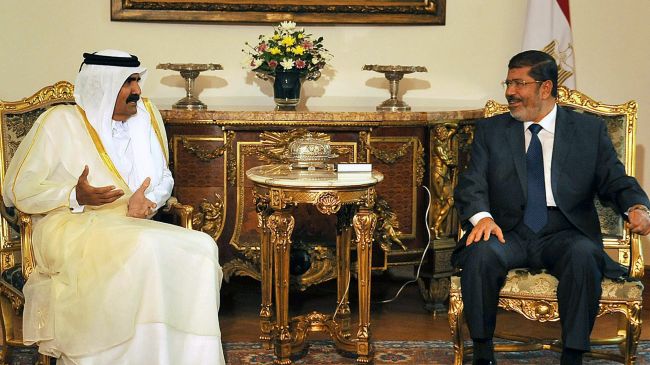 Egypt's Central Bank has returned two billion dollars in aid to Qatar despite the country's economic woes and turned down a request by Qatari airlines to increase flights.
The bank deposit, which was meant to be transformed into bonds, was part of an $8-billion Qatari aid package to Cairo after the 2011 revolution that toppled its former dictator Hosni Mubarak.
However, relations between Doha and Cairo have been unsettled since July 3, when Egypt's President Mohamed Morsi was ousted.
On Thursday, Hesham Ramez, the head of Egypt's Central Bank, said the money was paid back to Qatar after its government asked Egyptian officials to delay the conversion of the funds to bonds as agreed earlier.
A spokesman for Qatar's Finance Ministry said on the same day that Doha "respects the decision of the Egyptian government to return a two-billion-dollar deposit to Qatar."
Saudi Arabia, Kuwait and the United Arab Emirates, which regard the Muslim Brotherhood as a threat to Persian Gulf monarchies, have pledged to give Egypt $12 billion in aid.
Meanwhile, Egypt's Civil Aviation Ministry rejected a request by its Qatari counterpart to raise the number of flights between Egypt and Qatar via its national career Qatar Airways.
Egyptian authorities have also targeted Qatar's state-run broadcaster Al Jazeera and its affiliates in Egypt by storming its offices and arresting its reporters.
The network said in a statement released on September 12, "Al Jazeera has instructed lawyers to take all steps necessary worldwide to ensure that its journalists can operate freely in the country without fear of arbitrary arrest, assault, jamming or other forms of harassment and intimidation."