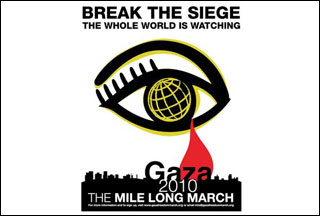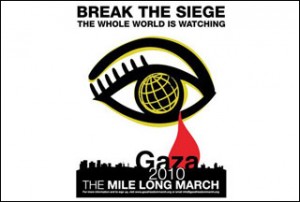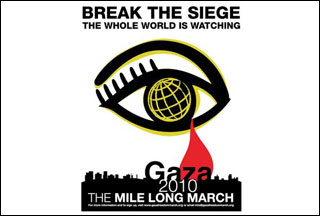 The Gaza Freedom March says Egyptian authorities have taken the decision to close the Rafah border crossing over what they alleged to be escalating tension on the border with the besieged Gaza Strip.
"We responded that there is always tension at the border because of the siege and that if there are any risks, they are risks we are willing to take. We also said that it was too late for over 1,360 delegates coming from over 42 countries to change their plans now," the campaign organizers said.
They went on to say, "Although we consider this as a setback, it is something we've encountered — and overcome — before. No delegation, large or small, that has entered Gaza over the past 12 months has received a final okay before arriving at the Rafah border. Most delegations were discouraged from even heading out of Cairo to Rafah. Some had their buses stopped on the way. Some have been told outright that they could not go into Gaza. But after public and political pressure, the Egyptian government changed its position and let them pass."
"Our efforts and plans will not be altered at this point. We have set out to break the siege of Gaza and to march in Gaza on December 31 against the international blockade. We are continuing the journey," added the organizers.
"Egyptian embassies and missions all over the world will be hearing by phone, fax and email from delegates and the supporters of the Gaza Freedom March over the coming crucial days, with the clear message: Let the international delegation enter Gaza and let the Gaza Freedom March proceed."
Organizers say some 1,300 peace activists from 42 countries have registered for the Gaza Freedom March which aims to end the siege of Gaza by attempting to break Israel's illegal and inhumane blockade.
Israel has continued to close all border crossings to the Gaza Strip for more than two years. The illegal Israeli-imposed blockade on the Gaza Strip, which has steadily tightened since 2007, has had a disastrous impact on the humanitarian and economic situation in the coastal enclave.
Some 1.5 million people are being denied their basic rights, including freedom of movement, and their rights to appropriate living conditions, work, health and education. Poverty and unemployment rates stand at approximately 80 percent and 60 percent respectively in the Gaza Strip.
Egypt with the Palestinian Authority's blessings has sealed its borders with the Gaza Strip, effectively cutting off the coastal enclave from the rest of the world.