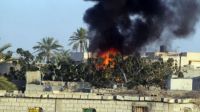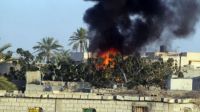 Egyptian foreign minister has condemned the terrorist attack on an Egyptian Coptic Christian church in the Libyan city of Misrata.
According to DPA, Mohammad Amr on Sunday asked the Libyan authorities to probe into the incident and bring those responsible to the justice.
Meanwhile, Egyptian Foreign Ministry Spokesperson Amr Roshdi said that Tarek Dahrouj, the Egyptian consul in Tripoli has paid a visit to the scene of the incident and held a meeting with the church's priest and the city's security officials.
He added that the Egyptian embassy in Libya also has in a letter asked the Libyan interior and foreign ministers to restore security in Egyptian churches across the country.
Bomb explosion in a Coptic church in the Western city of Misrata late Saturday left at least 2 dead and 2 others injured all of whom were Egyptian.