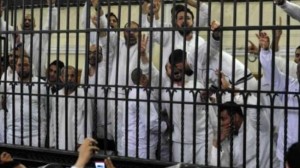 A court in Egypt has sentenced 102 supporters of ousted president, Mohamed Morsi, to lengthy jail terms amid intensifying crackdown on the banned Muslim Brotherhood movement.
The Brotherhood defendants have each received 10 years behind bars for inciting violence including rioting in a Cairo neighborhood and possession of weapons, an Egyptian criminal court ruled on Saturday.
Two other defendants were also jailed for seven years.
The Brotherhood members were charged with gathering illegally with intent to inflict material and moral harm to others and public property.
The military-backed government has arrested thousands of Morsi's supporters and put them on mass trial since July.
Just a few days ago, a court in Egypt sentenced over 680 people, including the Brotherhood leader, Mohamed Badie, to death.
The verdicts have garnered severe condemnations both domestically and overseas.
The crackdown on political dissent comes as protests continue across Egypt against the presidential election in late May, with former army chief, Abdel Fatah el-Sisi, remaining as a formidable contender.
This is while leftist candidate, Hamdeen Sabahi, has slammed the continuation of abuses committed during the era of Hosni Mubarak.
Sabahi is the main challenger to former army chief and the second candidate to run in next month's presidential election.
Egypt's military-backed government has launched a bloody crackdown on Morsi's supporters, with human rights groups saying as many as 1,400 people have been killed in the political violence that erupted following Morsi's ouster.