Egypt
Egypt Crisis Leaves 5 Dead, Over 350 Wounded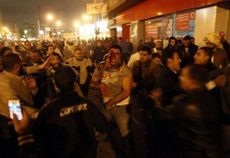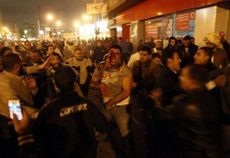 Five protestors were killed Wednesday night in clashes between supporters and opponents to Egyptian President Mohammad Mursi in an area close to the presidential palace in Cairo.
Clashes continued throughout the night, as MENA news agency reported that five protestors were killed, four of them with bullets and the fifth was shot with a hunting rifle close to his heart, and 350 others were wounded.
For their part, the Muslim Brotherhood said on their website that five of their supporters were also killed.
In Alexandria north Egypt, Muslim Brotherhood Constituent Committee Member Sobhi Saleh was killed during protests against Mursi, the Egyptian news agency reported.
Protestors continued their sit-in near the presidential palace till night despite calls to leave the streets from Prime Minister Hisham Qandil and the Muslim Brotherhood.
On Thursday, the Egyptian army deployed three tanks and three armored personnel carriers were stationed outside the front gate of the palace.