Egypt
Egypt forces kill student protester in Alexandria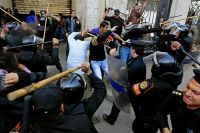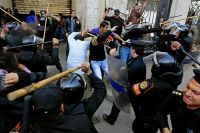 At least one university student has been killed after Egyptian security forces attacked supporters of the ousted president, Mohamed Morsi, in the northern city of Alexandria.
Many were also wounded in the clashes that erupted on Thursday at Alexandria University.
According to Press TV, Police used violent force and fired tear gas to disperse students who were protesting against the government crackdown on the Muslim Brotherhood, which has been leading protests against Morsi's ouster.
The latest death comes one week after a student protester was killed and several others injured at Cairo University.
Egypt has been experiencing deadly unrest since the army unseated Morsi, the country's first democratically-elected head of state, on July3, 2013, and appointed the head of the Supreme Constitutional Court, Adly Mahmoud Mansour, as interim president.
Egyptian universities have been also the scene of violent clashes, with students calling for the reinstatement of Morsi and demanding an end to the crackdown on Muslim Brotherhood supporters.