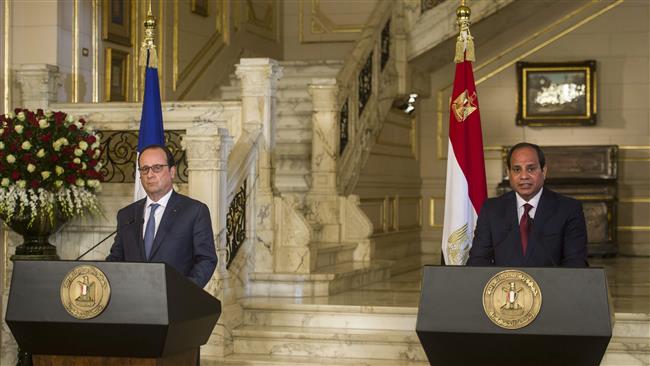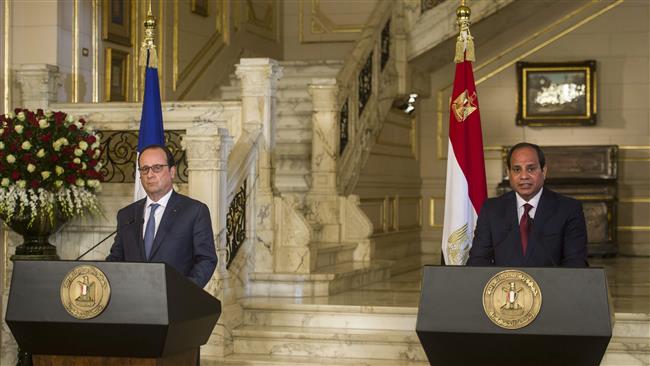 Egyptian President Abdel Fattah al-Sisi and visiting French President Francois Hollande have inked economic and military agreements amid heightened national protests against Sisi's policies.
A USD 1.4-billion deal to expand the metro line in the Egyptian capital, Cairo, was among the documents that were signed during the second leg of Hollande's tour to the Middle East on Sunday.
Hollande began his four-day visit to the region on Saturday, visiting Lebanon on the first leg of his tour and planning to visit Jordan as the last destination on Tuesday.
Paris and Cairo also signed an arms agreement worth over USD 1 billion.
Ahead of the French president's visit, rights groups, including Amnesty International, slammed France's silence over alleged human rights abuses in Egypt.
At a press conference that focused on allegations of abuse in Egypt, Sisi defended his country's human rights record, saying, "The region we live in, President Hollande, is very turbulent," addressing the French president.
​Sisi, who is accused of cracking down on opposition, also rejected the applying of "European criteria" of human rights to Egypt, which he described as a struggling country.
Hollande said, however, that, "Human rights are not a constraint but also a way to fight against terrorism."
Meanwhile, Sisi once again blamed "evil forces" for the recent killing of Italian student Giulio Regeni in Egypt.
"Let me say we are being confronted by an evil force that is trying to shake Egypt, and give a false impression of what is happening in Egypt," he told reporters.
Regeni's body was found on the outskirts of Cairo on February 3, nine days after he disappeared. His body bore signs of torture.
There is suspicion in Italy that elements in the Egyptian security services killed Regeni, and Rome recalled its ambassador to Cairo on April 8 to protest what it called the lack of cooperation in the investigation into Regeni's death.
"I want to say what is happening in Egypt is an attempt to destroy state institutions. Today, accusations are made against the police to bring down the police, then against judges to bring down the judiciary," Sisi said.
Egypt has come under fierce criticism for its widespread crackdown against government opponents since the first democratically-elected president of the country, Mohamed Morsi, was ousted in a military coup in July 2013. Sisi, who was the head of the armed forces at the time of the coup, became president later.
Sisi has been accused of leading the suppression of Morsi supporters, with hundreds of them having been killed in clashes with Egyptian security forces over the past few years, while thousands more have been jailed.
Christian Makarian, a prominent French journalist, told Qatar-based al-Jazeera television channel that Sisi seeks international legitimacy as well as "military help" from France.