Egypt
Egypt Government to Seize Brotherhood Assets, Protests Planned on Sunday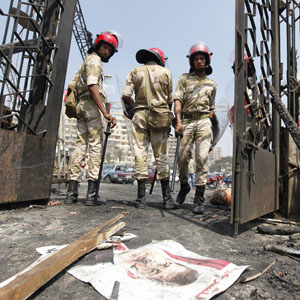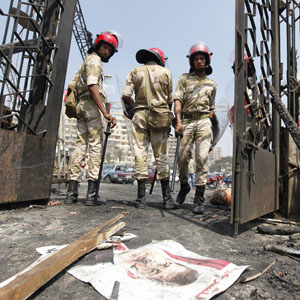 Egyptian government is moving to take over the assets of banned group Muslim Brotherhood, which for its part called for huge protests on Sunday to refuse what it called the army's coup.Army crackdown on Brotherhood gathering
The government said it will also ban or take over the extensive social services the Brotherhood provides – including hospitals, schools and charities.
The ban came in a recent court ruling but has only now been confirmed following a hiatus for appeals.
"By the law, by the last sentence, they are now banned," BBC quoted an Egyptian official said.
Hani Mahanna, spokesman for the minister of social solidarity – the ministry responsible for administering the ban – said the cabinet had formed a committee to investigate the Brotherhood's sources of funds and take over its assets.
He said if charities were proven to have links, "direct or indirect, with the Muslim Brotherhood – whether educational or medical – they will be bound by the court's decision, and the government will have to take them over."
The 15-day appeal window on the ban was due to expire on Monday, but was imposed early so the cabinet would not be forced to meet again over the upcoming three-day public holiday, according to BBC.
The Muslim Brotherhood was swept to power in Egypt 14 months ago. Its president, Mohammad Mursi, has not been seen in public since he was ousted by the military in July, following mass protests against his rule.
One Army Officer, Three Gunmen Killed
An Egyptian army officer was murdered after militants attacked his vehicle at Ismailia highway, yet two of the aggressors were arrested, according to security sources.
The security sources also mentioned that two gunmen were killed when a bomb prematurely blasted while they were planting it on a highway and that a third gunmen was killed while he was driving a car loaded with weapons and explosives.
Supporters of deposed President Mohamed Mursi from the Muslim Brotherhood took to the streets in several Egyptian cities on Friday, clashing with opponents and police.
An Egyptian army vehicle fired live rounds at protesters who had been pushed away from Cairo's Tahrir Square by security forces, witnesses say.
One Brotherhood supporter has died from a gunshot wound in clashes in the center of Cairo, Reuters reported, citing medical sources.
Riot police earlier fired tear gas to push back the march in the capital, and onlookers threw rocks at the pro-Mursi protesters.
Protests in Tahrir Square
On the other hand, an alliance opposed to the ouster of Mursi called for demonstrations Sunday in Cairo's central Tahrir Square.
A movement calling itself a pro-legitimacy national alliance says it was calling on all Egyptians to turn out for a "massive" march on the central Cairo square Sunday.
"Participate peacefully, positively," the statement published on the Muslim Brotherhood's website said Thursday.
"Egypt's coalition of parties, groups and movements opposed to the heinous coup calls all Egyptians to participate in a massive peaceful protest."