Egypt
Egypt journalists demand presidential apology, dismissal of interior minister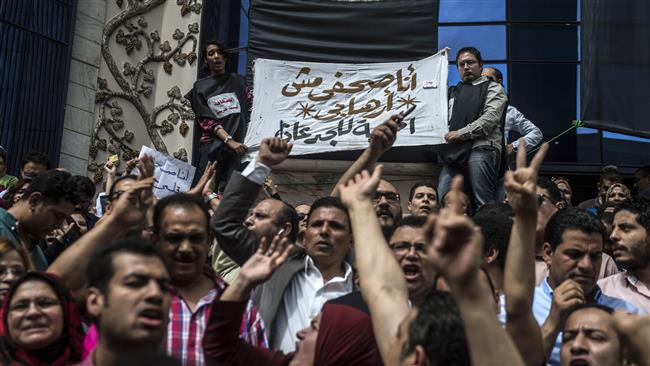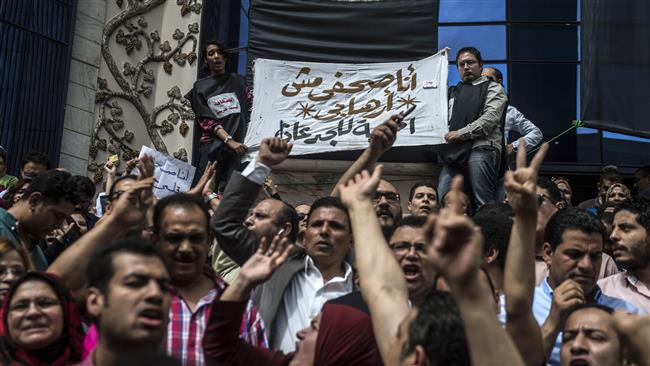 Hundreds of Egyptian reporters have demanded the sacking of the interior minister and a presidential apology over the unprecedented police raid on the Syndicate of Journalists earlier this month.
Police blocked the roads leading to the syndicate headquarters in the Egyptian capital, Cairo, on Wednesday and just allowed the holders of syndicate membership cards to gather in and around the building for their meeting on Wednesday.
On May 1, police sparked media and opposition outrage by storming the syndicate building and arresting two reporters, Amr Badr and Mahmud el-Sakka, on allegations of inciting protest in April.
Hundreds of reporters inside a crowded conference room in the syndicate headquarters voiced their approval while an official was reading out a statement that called for the sacking of the Interior Minister Magdy Abdel Ghaffar and an apology from President Abdel Fattah el-Sisi to journalists.
The statement also demanded the release of detained journalists.
Meanwhile, hundreds of reporters who gathered outside the building chanted "Hold your head high, you're a journalist."
"The Interior Ministry are thugs" was among the slogans chanted by the angry journalists on Wednesday.
Egyptian police arrested hundreds of people in the days leading up to and during April 25 mass protests against Sisi's decision to transfer the sovereignty of two Red Sea islands of Tiran and Sanafir to Saudi Arabia.
The Egyptian government has been cracking down on opposition since former president, Mohamed Morsi, was ousted in a military coup led by ex-military chief and current President Abdel Fattah el-Sisi in July 2013.