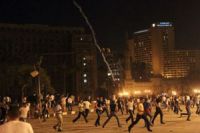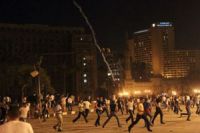 Egyptian military chief has called for national dialog to resolve the conflict between the president and the opposition.
According to Reuters, Major General Abdel Fattah al-Sisi, the Commander-In-Chief of the Egyptian Armed Forces, invited all parties to meet for a meeting in Cairo scheduled for 1430 GMT on Wednesday.
The judiciary committee, which oversees the vote, decided that the referendum should be conducted on two days instead of one.
Earlier in the day, Egyptian demonstrators, protesting against the country's draft constitution, breached a barricade protecting the presidential palace in the capital, Cairo.
The incident occurred as several hundreds of Morsi's opponents managed to pull a high metal gate bar apart and topple concrete blocks outside the palace.
On November 22, Morsi issued a decree declaring that no judicial body could dissolve the Constituent Assembly, which was writing the draft of the constitution.
The decree allowed the president to take "any decision or measure to protect the revolution." It also made decisions and laws drafted by the president "final and not subject to appeal."
Since November 22, tens of thousands of Egyptians have held demonstrations across the country against and in support of the draft constitution, which stated that the nation would be governed by the principles of Islamic law.