Egypt
Egypt opposition calls for urgent talks with President Morsi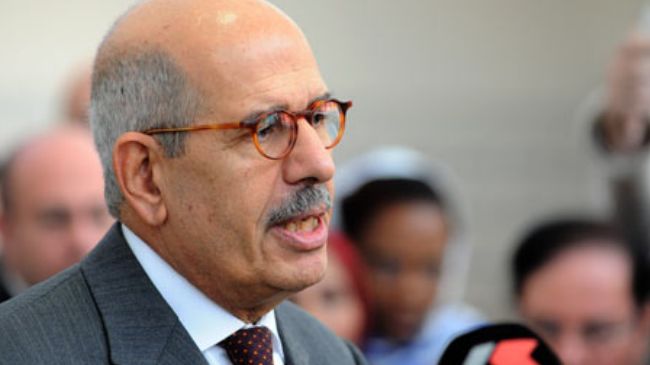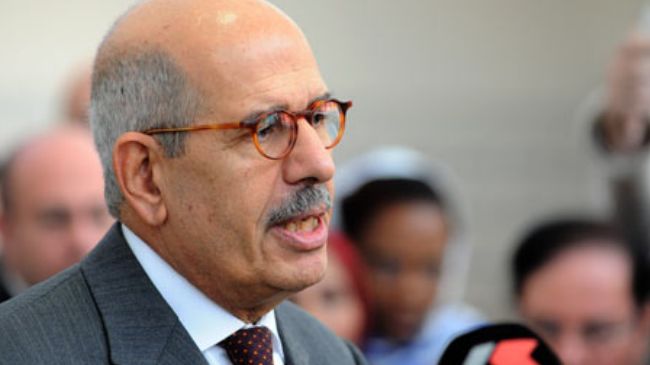 Egypt's opposition figure Mohamed ElBaradei has called for urgent talks between the political groups and President Mohamed Morsi to end the ongoing crisis rocking the country.
ElBaradei said on his Twitter account on Wednesday that the opposition National Salvation Front wanted an "immediate meeting" with the country's president, as well as defense and interior ministers in a bid to "take urgent steps to halt the violence and start serious dialogue."
The call came two days after the opposition group rejected the president's invitation for talks to resolve the country's political crisis and end the violence.
Earlier on Wednesday, President Morsi reportedly assigned the governors of the canal region to implement or cancel the curfew based on each governorate's security situation.
On Sunday, Morsi imposed a curfew in the cities of Port Said, Suez, and Ismailia for 30 days starting from Monday. However, on Monday night protesters took to the streets in the three Suez Canal cities in defiance of the curfew imposed by the government.
Meanwhile on Tuesday, Egyptian Defense Minister General Abdel Fattah al-Sissi warned that the current political crisis in the country could lead to the state's collapse.
The ongoing violence in Egypt has left 54 people dead since January 25 when the country marked the second anniversary of the revolution that ousted former dictator Hosni Mubarak.
The deadliest clashes took place in Port Said. Chaos erupted when a court handed down death sentences to 21 people for their role in an incident that saw the death of 74 people following a football match in the city last year.