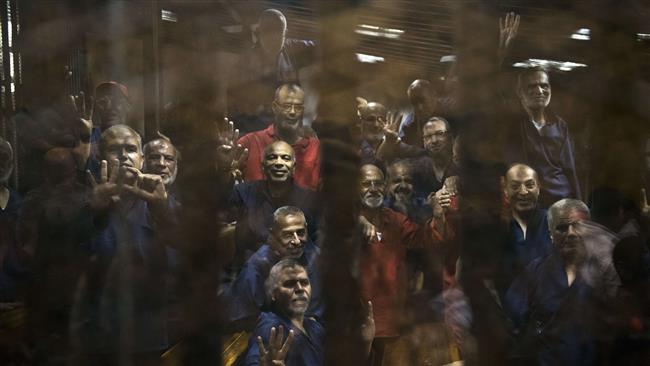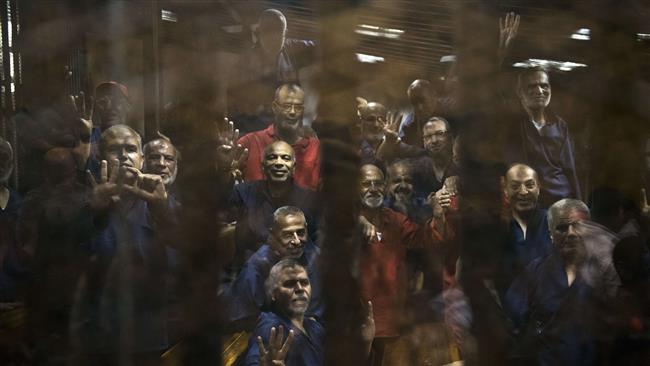 A court in the northern Egyptian city of Mansoura has sentenced 14 Muslim Brotherhood members to death in separate terrorism-related cases.
In the first case, the Mansoura court handed down the execution sentences on Thursday for 10 of the Brotherhood members on charges of involvement in killing a police officer last year.
The court alleged that the defendants killed the officer who served as a security guard for one of the judges hearing the trials of Egypt's ousted President Mohamed Morsi.
Sergent Abdallah Metwally was part of a team of police forces guarding the home of judge Hussein Kandil when he was shot dead in February 2014 in Mansoura.
Egyptian authorities have claimed that a number of the defendants admitted to killing the policeman following their arrest.
In the second case, four other members of the Brotherhood also received death penalties for allegedly forming a "terrorist group."
This is while nine other defendants, eight of whom were sentenced in absentia, were handed down life imprisonment terms by the Mansoura court in the same case.
Under the Egyptian law, all the execution sentences will be referred to the Egypt's Grand Mufti, who has to review all death penalties, although his ruling on the cases is not binding.
Those condemned to death on Thursday were among 24 people facing trial in Mansoura over Metwally's murder. Verdicts against the other 10 will be announced in September.
Since Morsi's 2013 overthrow in a military coup led by then-army chief and current President Abdel-Fattah el-Sisi, the Egyptian government has been brutally cracking down on the Muslim Brotherhood and its supporters.
Last month, Morsi and Muslim Brotherhood's top leader Mohamed Badie were sentenced to death, along with 100 other senior members of the movement, for escaping from prison in 2011 before the country's popular revolution that ousted long-time US-backed dictator Hosni Mubarak.
Moreover, Morsi and Badie also received life imprisonment sentences in a separate court ruling that accused them of engaging in "espionage."
Egypt's harsh crackdown on the Brotherhood and its supporters has been widely condemned by international human rights organizations.