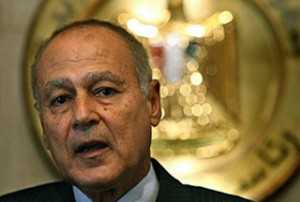 Egyptian Foreign Minister Ahmed Abul Gheit has underlined that the Iranian nuclear issue should be solved through dialogue.
According to IRINN on Thursday, the Egyptian official made the remark while traveling to Kuwait along Egyptian President Hosni Mubarak.
Abul Gheit had earlier supported Iran's nuclear program in an interview with al-Ittihad newspaper in the United Arab Emirates.
The Egyptian Foreign Minister also urged Arab countries to make efforts to resolve the Iranian nuclear issue through a political solution.
Diplomatic ties between Iran and Egypt were severed in 1979 when the Egyptian government inked a peace treaty with Israel.
In 2007, Tehran and Cairo took steps to normalize their diplomatic relations despite their contrasting views.
Normalization efforts were put on hold about a year ago in the wake of Israel's three-week long assault on the Gaza Strip, which claimed the lives of at least 1,400 Palestinians.
Tehran strongly criticized Cairo's complicity with Israel in the imposition of a crippling blockade on the coastal territory that has caused a humanitarian crisis for Gazans.