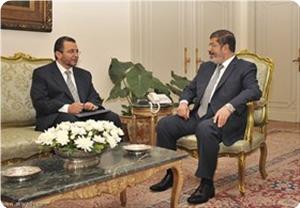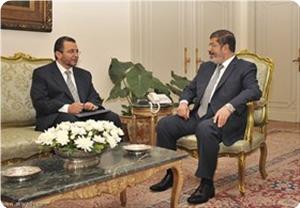 Dr. Yasser Ali Spokesman for the Egyptian Presidency said that President Mohamed Morsi, has commissioned the Prime Minister Hisham Qandil to go to the Gaza Strip on Friday at the head of a high-level delegation.
The spokesman said that Qandil's visit to Gaza came to emphasize Egypt's solidarity with the people of Gaza in the face of the brutal Israeli aggression, as well as to provide the urgent needs for the Palestinian people.
Sources from the Egyptian presidency confirmed that President Morsi held an emergency meeting this afternoon with a number of Egyptian ministers headed by Egyptian Prime Minister Hisham Qandil to discuss the latest developments in the Gaza Strip after the brutal aggression.
The Palestinian government has welcomed the Egyptian prime minister's visit to Gaza, praising the Egyptian "courageous" position towards aggression, and called on Arab countries to follow the Egyptian leadership's position and to send official delegations in solidarity with the Gaza Strip.
Egyptian President Mohamed Morsi had earlier considered the Israeli escalation on the Gaza Strip as unacceptable aggression, and called on the Arab foreign ministers to hold an emergency meeting in Cairo to discuss the Israeli attack which killed 15 people and wounded 150 others so far.
Mursi said in a short speech broadcasted on Egyptian official TV channel that "the Israelis have to understand that aggression cannot be accepted and can only lead to instability in the region."
Meanwhile, the Israeli aggression on Gaza and the assassination of the Izz al-Din al-Qassam leader Ahmed al-Jabari, has caused angry reactions among the Egyptian people who called on the Egyptian government to take tougher positions to stop the aggression on Gaza.
The Egyptian political and religious forces and movements stressed on the need to support Gaza and to take more advanced steps that could translate the revolutionary change in Egypt.
The Egyptian political and partisan forces praised President Mohamed Morsi's decision to withdraw Cairo's ambassador from the Israeli entity, and considered it "a good step to be followed by other steps to protect the land of Sinai."