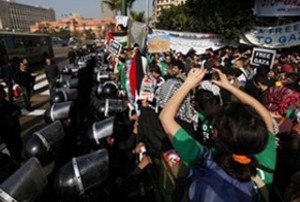 Egyptian police have attacked some 1,200 international activists who had gathered at the Rafah border crossing to protest against the Israeli-imposed blockade on the Gaza Strip.
The activists say their protest was a "non-violent" gathering, aimed at showing the rest of the world how badly the people of Gaza are suffering.
At least one of the activists was injured in the attack.
On Wednesday, 86 international activists were allowed to enter the enclave from Egypt via the Rafah crossing, but other members of the Gaza Freedom March say they are being forcibly held in their hotels.
Egyptian officials say the activists were banned from entering Gaza because of what they called the "sensitive situation" in the Palestinian territory.
The activists were joined by a few hundred Palestinians as they marched from northern Gaza to the Erez crossing with Israel.