Egypt
Egyptian police storm Tahrir square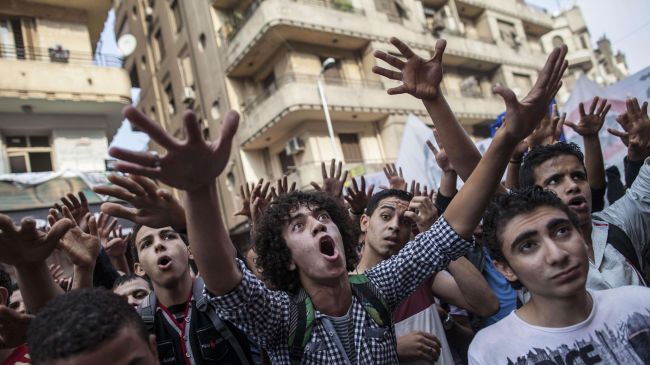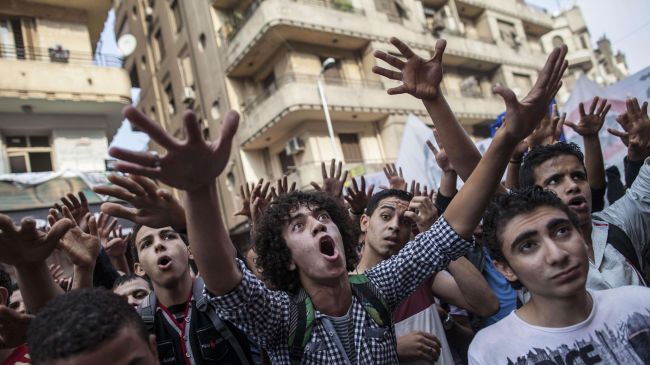 At least one student has been killed and dozens of others detained in a raid by Egyptian security forces on al-Azhar dormitory.
The security forces entered al-Azhar University campus in Cairo on Wednesday to quell student protests against the military-backed government.
One of the buildings inside the university campus was set on fire during the attack.
Last week, a court sentenced 12 pro-Morsi students to 17 years in prison for attacking the Al-Azhar headquarters in October.
Also on Wednesday, Egyptians staged protests against military rule in different towns and cities, including Alexandria, Tanta and Helwan.
The demonstrators chanted slogans against army chief General Abdel Fattah al-Sisi and demanded reinstatement of Egypt's ousted president, Mohamed Morsi.
In a televised speech late on July 3 night, al-Sisi announced that Morsi, a former leading member of the Muslim Brotherhood, was no longer in office and declared that the head of the Supreme Constitutional Court, Adly Mahmoud Mansour, had been appointed as the new interim president of Egypt. The army also suspended the constitution.
Army officials say that Morsi, who took office in June 2012, is being held "preventively" by the military.
Morsi appeared in court on November 4 on charges of inciting the killing of protesters outside the presidential palace in 2012.
At the trial, Morsi is reported to have said that he is the legitimate president of Egypt, calling on the court "to end this farce."
"I am Dr. Mohamed Morsi, the president of the republic… This court is illegal," Morsi told the opening hearing of his trial, adding, "This was a military coup. The leaders of the coup should be tried. A coup is treason and a crime."
The trial was adjourned to January 8, and the ousted president, who has been detained at a secret location since his removal, was transferred to a prison in the Mediterranean city of Alexandria.
Egypt has been experiencing unrelenting violence since July 3. The government of Mansour has launched a bloody crackdown on Morsi supporters and arrested more than 2,000 Brotherhood members, including the party's leader, Mohamed Badie, who was detained on August 20.
About 1,000 people were killed in a week of violence between Morsi supporters and security forces after police dispersed their protest camps in a deadly operation on August 14.
The massacre sparked international condemnation and prompted world bodies to call for an independent investigation into the violence.