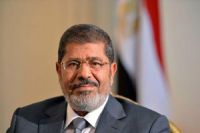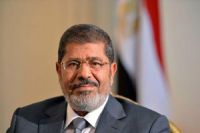 Egyptian President, Mohammad Morsi, has said that the issue of Palestine has been one of the priorities of the Non-Aligned Movement, since its formation.
According to IRIB World Service, the Egyptian president, in an address to 16th NAM Summit in Tehran on Thursday, said: The Non-Aligned Movement should conclude that no one has the right to interfere in the fate of Palestine. The Palestinian nation maintains the right to take its destiny into its own hands and to form an independent government in Palestine.
Morsi added that: We try to once again stand by the righteousness and to fully support the Palestinian nation so that this nation would gain access to its own country and government; join the UN; and restore calm after several decades.
He noted that the demands of the Palestinian nation should be fulfilled and the Palestinian captives should be liberated from the yoke of the Zionist regime of Israel.
In further remarks, the Egyptian president said we should make utmost efforts for respecting democratic affairs in countries and should try to establish unity among countries in the international scene.
He went on to point out that unfortunately in the current global scene the colonial states are hell-bent to drive a wedge between newly developed states and Third World countries.
He underlined that the UN Security Council should be reformed and developed to be able to manifest global justice.
He added that we should reflect the views of nations.
He also pointed out that a number of coalitions should be made among NAM member states so that polarization of the world would not be repeated.
Elsewhere, the Egyptian president said that the Egyptian revolution has attained its goals and currently the Egyptian nation's resolve governs this country.