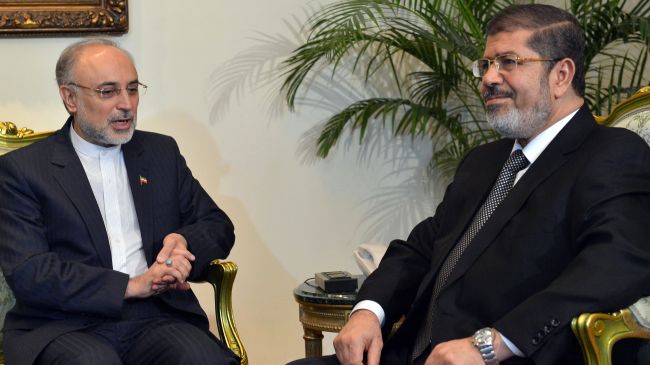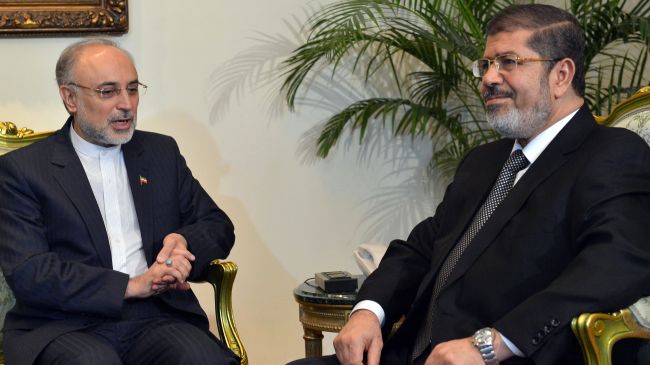 Egyptian President Mohamed Morsi says Cairo needs to build a strong relationship with Iran in order to work out a way to end the crisis in Syria.
Iran is "a main player in the region that could have an active and supportive role in solving the Syrian problem," Morsi said in a televised interview on Saturday, Reuters reported.
In August, the Egyptian leader asked Iran, along with Turkey and Saudi Arabia, to join in a quartet committee to discuss ways to end the ongoing unrest in Syria.
In his Saturday remarks, Morsi dismissed Western opposition to engage Tehran in Syria talks, describing Iran's inclusion as "vital" in resolving the crisis.
"I don't see the presence of Iran in this quartet as a problem, but is a part of solving the problem," he added.
Relations between Iran and Egypt soured after Iran's Islamic revolution in 1979 given Cairo's pro-Israeli stance under President Anwar Sadat and his successor Hosni Mubarak, who was toppled in the wake of a popular revolution in February 2011.
Morsi, the first democratically elected Egyptian president, however, took a major step to break the ice and visited Tehran last month to attend the Non-Aligned Movement (NAM) summit in there despite recommendations from some Western governments not to.
"We do not have a significant problem with Iran, it (the relation between Egypt and Iran) is normal like with the rest of the world's states," he said.
Syria has been experiencing unrest since March 2011. Damascus says outlaws, saboteurs, and armed terrorists are the driving factor behind the unrest and deadly violence while the opposition accuses the security forces of being behind the killings.
Western states have been calling for Syrian President Bashar al-Assad to step down. However, Russia and China are strongly opposed to the Western drive to oust Assad.
The Syrian government says that the chaos is being orchestrated from outside the country, and there are reports that a very large number of the armed militants are foreign nationals, mostly from Egypt, Algeria, Saudi Arabia, and Afghanistan.