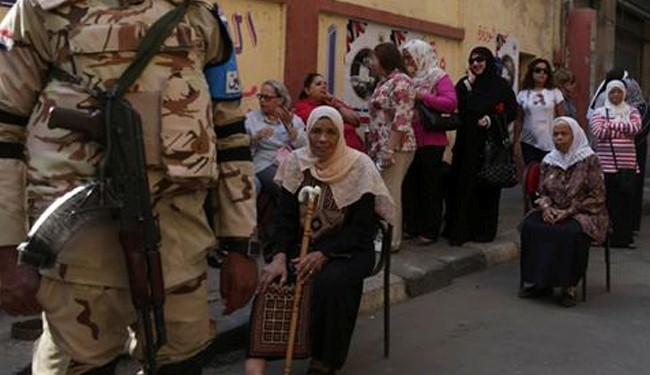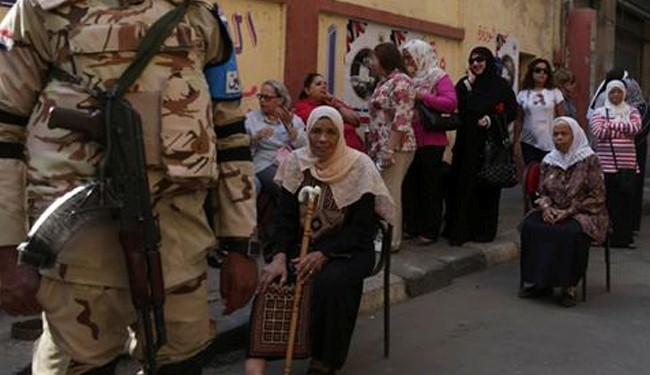 Egyptians have begun voting in a two-day presidential poll devised by the military-installed interim government in which former army chief Abdel Fattah al-Sisi is widely expected to win, amid calls by Islamist groups to boycott the vote.
Polling stations opened at 9:00 a.m. (06:00 GMT) across the country as Sisi, widely viewed as Egypt's de facto ruler since he toppled the Muslim Brotherhood's Mohamed Morsi last July, faces a single challenger — leftist politician Hamdeen Sabahi.
Sisi emerged as Egypt's de facto leader since he forced the ouster of the country's first freely-elected president Morsi last July and launched a brutal crackdown on his Muslim Brotherhood party and other supporters in the bloodiest chapter of the country's modern peacetime history.
He has acknowledged the scale of Egypt's problems, including an energy crisis and militant violence that has driven away foreign investors and tourists, hammering the economy.
"The challenges present in Egypt are so many," he told Reuters in an interview this month.
"I believe that within two years of serious, continuous work we can achieve the type of improvement Egyptians are looking for," Sisi further claimed.
The military strongman's only challenger, widely viewes as merely a formality, is leftist politician Sabahi who finished third in the 2012 election that brought Morsi to power.
Although the poll result appears a foregone conclusion, the unlikely prospect of a large turnout would be considered as a strong mandate for Sisi's rule.
Supporters regard Sisi, who resigned from the military earlier this year in his bid to capture the country's presidential post, as a decisive figure who can stabilize Egypt. His opponents, however, insist that he is the mastermind of an illegitimate coup that robbed Egypt's first freely-elected leader of power.
They fear Sisi will rule Egypt with an iron fist just like other former military strongmen did, and say he will protect the political and economic interests of the generals and businessmen who amassed fortunes before the 2011 revolution that toppled US-backed autocrat Hosni Mubarak but remained influential.
Security forces have largely driven the Brotherhood underground after hundreds were killed and thousands arrested. More than a thousand Brotherhood supporters have been sentenced to death on charges including inciting violence after the army overthrew Morsi.