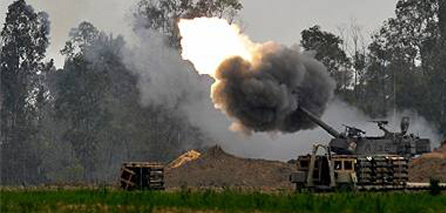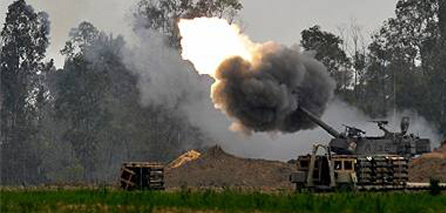 Top Egyptian officials informed Palestinian authorities in Ramallah that Israel has its sights set on launching a military strike on the Gaza Strip by the end of 2010, political analyst Mustafa Al Sawaf said, adding that Cairo has placed conditions to hinder agreement between Palestinian factions on security issues.
Sawaf said on Saturday that he was informed by sources who accompanied a visit by Egyptian officials to the PA headquarters in Ramallah last Thursday that Egyptian intelligence minister Omar Sulaiman told Abbas that Netanyahu's security consultant, who visited Cairo a few days back, informed Egypt that Israel will carry out a military strike on the Gaza Strip before the year's end.
Quoting informed sources, Sawaf said Omar Sulaiman told Abbas that Netanyahu's consultant said the Israeli government was not content with Hamas's growing military strength or with humanitarian aid convoys allowed to be sent to the Gaza Strip through Egypt.
Sawaf speculated that the Egyptian government may tighten its blockade on the Gaza Strip by denying the passage of aid convoys and sympathizers and monitoring borders to stop the import of weapons to Gaza.
Sawaf said that Cairo imposed conditions on Fatah negotiators before going to meet with Hamas in Damascus to discuss security issues mainly not to accept that Hamas cadres would assume command of any security forces in the West Bank or the Gaza Strip, but the Egyptian regime did not object to Hamas members acting as elements of such security forces.
Hamas would not agree to such conditions, the political analyst asserted, which means that a reconciliation relied on by the Palestinian people would not be achieved.
"We're not talking about this to undermine Egypt, as Egypt is too big to be undermined, but we put these matters out there now so the picture becomes clear to everyone, and to reveal the nature of the [Egyptian] regime, which works to materialize the interests of Israel and America at the expense of the interests of the Palestinian people," the writer went on to say.