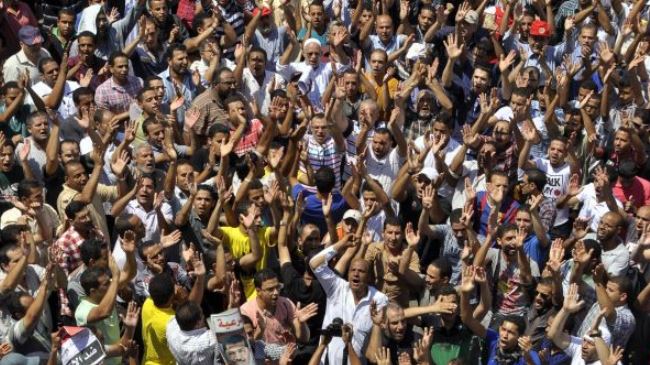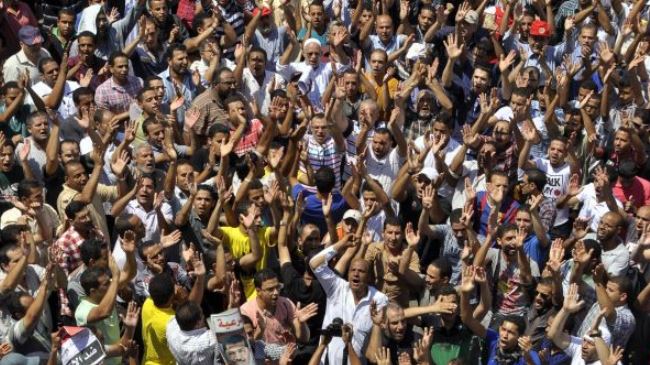 Hundreds of Egyptian demonstrators have rallied in Cairo and other cities across the country to denounce the violence by security forces against student protesters, Press TV reports.
The demonstrators from the Anti-Coup Alliance took to the streets across Egypt on Friday, calling for an immediate end to military rule and the release of political detainees.
One man was killed in clashes with the police in the Cairo neighborhood of Matariya.
Masked men also set ablaze two automobiles belonging to the Saudi Arabian consulate. This is the first attack against Saudi property in the North African country.
Egyptian protesters say Riyadh has been the biggest supporter of Abdel Fattah el-Sisi, the current president and the former head of the armed forces.
Following the ouster of Egypt's first democratically-elected president Mohamed Morsi by Sisi in July 2013, students have staged massive anti-government protests across the country. The government clampdown on Morsi supporters has left hundreds dead and thousands detained.
Also on Friday, two bomb attacks in the volatile Sinai Peninsula claimed the lives of nearly 33 security personnel.
Following the Friday assaults, Sisi held an emergency meeting of the National Defense Council to discuss the new spate of violence in Sinai, and announced three days of mourning in the country.
The council also declared a state of emergency "for a duration of three months" in the northern and central parts of the Sinai Peninsula.
Dozens of similar attacks have taken place against army and police forces in Sinai over the past couple of years.
Ansar Bait al-Maqdis, an al-Qaeda-affiliated militant group, has claimed responsibility for most of the attacks in the restive region.
Although the Muslim Brotherhood had previously condemned such attacks, the Egyptian government insists that these attacks are encouraged and in some cases carried out by the Brotherhood.