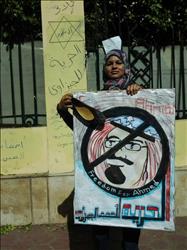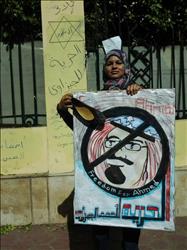 Hundreds of Egyptians gathered in front of Saudi Arabia's embassy in Cairo on Tuesday, to condemn the recent arrest of a prominent Egyptian rights lawyer and activist.
Rights activists, lawyers as well as students from the University of Cairo and families of imprisoned Egyptians in Saudi Arabia joined the rally outside the Saudi Embassy.
Ahmed Mohammed al-Gizawi, the rights lawyer was detained in Saudi Arabia for allegedly insulting the kingdom's monarch.
The demonstrators chanted slogans against the Saudi king and called for the immediate release of al-Gizawi.
Protesters chanted, "Down, down with al-Saud!" referring to the Saudi royal family. The demonstrators also called for the expulsion of the Saudi ambassador in Cairo.
One banner read: "The monarchy was not bothered by the burning of the Quran or the famine in Somalia, but was bothered by a lawsuit filed against the Saud family."
Al-Gizawi was arrested by Saudi security forces on April 17 upon arrival in the Saudi city of Jeddah. The lawyer's detention came without any prior notification and at a time he was in Saudi Arabia to perform the Islamic pilgrimage of Umra.
On Monday, Egypt's Arabic Network for Human Rights Information issued a statement, saying Gizawi's detention followed a sentence of one year in prison and 20 lashes delivered against him in absentia for criticism of the Saudi rulers.
Gizawi is being targeted for his activism in favor of Egyptian detainees in Saudi prisons, the statement added.
For its part, Egypt's foreign ministry said it was closely following the case. Spokesman Amr Rushdi said Cairo was in constant contact with Saudi authorities over the arrest.
The incident surrounding Ahmed al-Gizawi has revived long-standing resentment over the treatment of Egyptians working in the oil-rich kingdom, which is a destination for more than a million Egyptians searching for better jobs.
As Saudi Arabia fears unrest as people have started their protests, attempts to advocate for more rights, as al-Gizawi has done, or question the authority of the monarchy in any way, have been met with strong opposition by authorities.
On another hand, Saudi cyber activists expressed their support for al-Gizawi, noting that the Saudi regime insists on embarrassing the Saudi people before the Arab peoples.