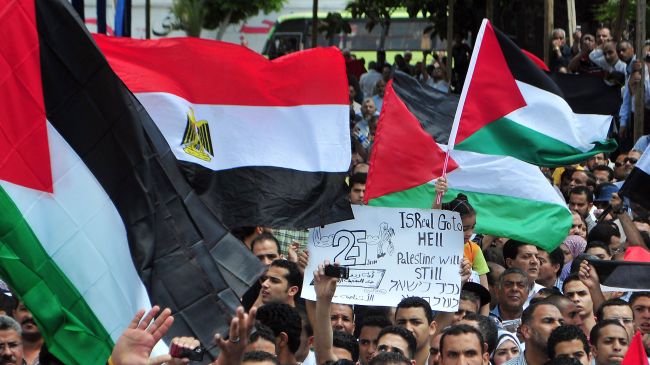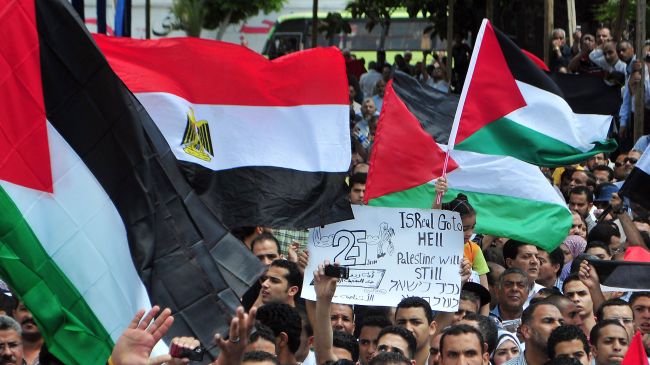 Egyptians have demonstrated in Cairo to protest against the latest Israeli attacks on Gaza and called for the suspension of ties with the Tel Aviv regime.
Waving Egyptian and Palestinian flags, the demonstrators gathered in Talaat Harb Square in Downtown Cairo on Monday to show their rage at the deadly air and ground attacks on the besieged strip, the Egyptian newspaper Al-Ahram reported.
"No to the vicious aggression on Gaza" read a banner held by members of the leftist Egyptian Popular Current, one of the groups that organized the protest.
Another protester held a sign bearing a quote by former Egyptian President Gamal Abdel-Nasser, reading, "Our struggle against the Zionists is a conflict of existence, not of borders."
The protesters also called on President Mohamed Morsi to immediately expel the Israeli ambassador to Egypt
In 1979, Egypt became the first Arab country to sign a peace treaty with Israel, but was compelled to agree to supply gas to Israel as one of the main economic conditions of the US-sponsored peace deal.
Israeli airstrikes, shelling and artillery fire have left at least six Palestinians dead and over 45 others injured since Saturday. Some of the wounded are in critical condition.
The Israeli military frequently carries out airstrikes and other attacks on the Gaza Strip, saying the actions are being conducted for defensive purposes. However, disproportionate force is always used, in violation of international law, and civilians are often killed or injured.
Gaza has been blockaded since June 2007, a situation that has caused a decline in the standard of living, unprecedented levels of unemployment, and unrelenting poverty.
The apartheid regime of Israel denies about 1.7 million people in Gaza their basic rights, such as freedom of movement, jobs that pay proper wages, and adequate healthcare and education.