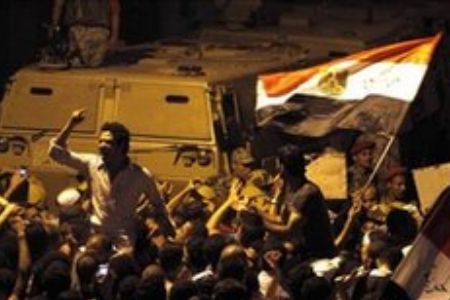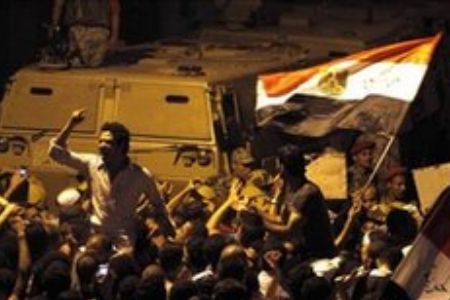 Egyptian protesters have stormed the Zionist Israeli embassy in Cairo, destroying a part of a barricade wall around the building in the process, and one demonstrator has died, Press TV reports.
Egyptian police used tear gas to disperse the crowd, the Press TV correspondent in Cairo reported on Friday.
One person died due to asphyxiation after inhaling tear gas, and about 450 demonstrators were injured, medical personnel said.
The demonstrators threw documents out the windows of the embassy building and also torched a police car.
The crowd managed to break into the embassy building despite the presence of heavily armed Egyptian security forces in the area.
Gunfire was also heard near the embassy.
A protester tore down the Zionist Israeli flag at the embassy, to the cheers of thousands of demonstrators on the scene.
Last month, another Egyptian protester became a national hero after he climbed up the wall of the Zionist Israeli embassy, took down the Zionist Israeli flag, and hoisted an Egyptian flag in its place during a demonstration held to condemn Zionist Israel for killing a number of Egyptian policemen on the border.
Five Egyptian border police officers were killed on August 18 in an attack by Zionist Israeli forces.
On Friday, the Egyptian demonstrators also called for the expulsion of the Zionist Israeli ambassador and chanted anti-Israeli slogans.
Meanwhile, tens of thousands of Egyptians once again gathered at the iconic Liberation Square in Cairo to demand that the military government hand over power to a civilian administration. The protesters gathered in the square after Friday prayers to participate in the "Correcting the Path" demonstration.