Egypt
Egypt's Senate ratifies law granting army arrest powers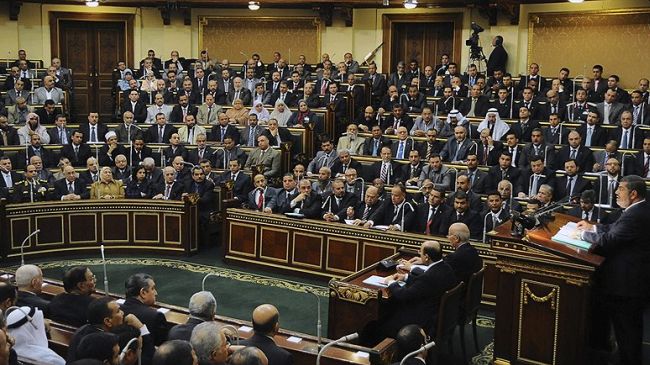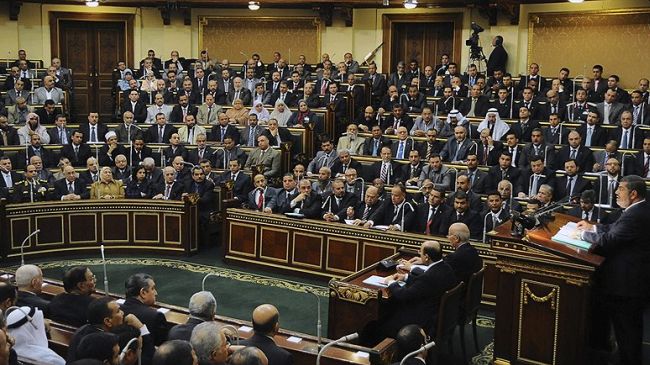 Egypt's MENA news agency says that the country's senate has ratified a law granting the army the authority to arrest civilians as unrest continues in the North African country.
The law requires armed forces to "support the police in maintaining order and protecting vital installations until the end of parliamentary elections ( in April 2013) and whenever the National Defense Council (headed by President Mohamed Morsi) requests it," said MENA news agency in a report released on Monday. The army will also "be given powers of arrest" it added.
This comes as ongoing violence in several Egyptian cities including Cairo, Alexandria, Suez and Port Said has left some 50 people dead since January 25.
Earlier in the day, at least one person was killed in new clashes between Egyptian protesters and police forces near the iconic Tahrir (Liberation) Square in the capital Cairo.
On Sunday, President Mohamed Morsi declared a state of emergency in Port Said, Suez, and Ismailia following deadly clashes in the cities.
On the same day, as many as seven people were killed and over 460 others injured in clashes between protesters and police in the eastern Egyptian city of Port Said.
Sunday's deaths occurred during a mass funeral procession held for 37 people who were killed in clashes a day earlier, and when rioters exchanged gunfire with policemen at three police stations and outside Port Said's main prison.
The Saturday deadly chaos erupted when a court issued death sentences for 21 people for their role in a massacre following a football match in Port Said last year that led to the death of 74 people.
On Friday, nine people were killed by gunfire during clashes between police and protesters in Suez on the second anniversary of the revolution that toppled former dictator Hosni Mubarak.
Thousands of Egyptians staged demonstrations across the country to call on Morsi, who took office in June 2012, to fulfill his election promises.
The Egyptians launched the revolution against the pro-Israeli regime on January 25, 2011, which eventually brought an end to Mubarak's 30-year-long dictatorship on February 11, 2011.