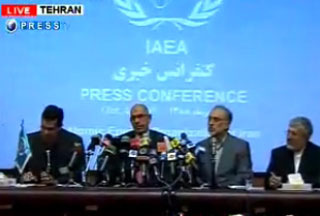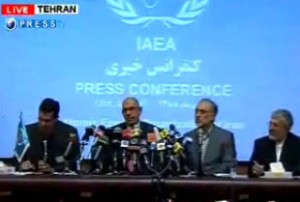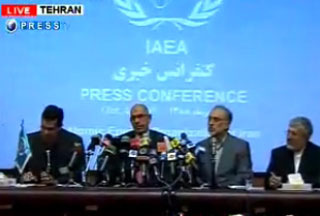 The UN nuclear watchdog Chief, Mohamed ElBaradei, says regional and global stability can only be achieved through total nuclear disarmament.
"I have always taken the view that the world would only be safe when we have a world free from nuclear weapons," ElBaradei said in a joint press conference with the head of Iran's Atomic Energy Agency Ali-Akbar Salehi in Tehran on Sunday.
ElBaradei, who was responding to a question by Press TV's reporter Gisoo Misha Ahmadi added: "The region of the Middle East can only see regional stability and regional security when it is established as a nuclear weapon free-zone."
The head of UN nuclear watchdog acknowledged that denuclearization is a goal on which the International Atomic Energy Agency had made little progress.
"Unfortunately on… Middle East free from nuclear weapons we haven't made much progress there is still a major difference between Israel on the one side and Arab countries and Iran on the other side."
Israel– which has initiated several wars in the region in its 60-year-old history– is the region's sole nuclear-armed power with what is believed to be an arsenal of over 200 ready-to-launch atomic warheads. It is also one of the only three regimes in the world that have not signed the nuclear Non-Proliferation Treaty (NPT).
The IAEA director-general claimed, however, that Tel Aviv agrees "the long-term goal of a nuclear free zone in the Middle East."
"I hope we should be able to make progress in the near term because there is no stability in my view, there is no enduring security in the Middle East without having the Middle East free from all inhumane weapons, nuclear weapons, chemical weapons biological weapons," he said.
ElBaradei also commented on the future of global disarmament and criticized nuclear armed states for maintaining their nuclear stockpiles.
"On a world free from nuclear weapons unfortunately the weapons states did not really make good on their commitment for 30 years under the NPT," ElBaradei said.
However, he did say that the new US administration's approach towards disarmament has given him "a glimmer of hope that we are on the right track".
"Recently [US President] Barack Obama has taken an initiative for the world to complete concrete steps towards a world free from nuclear weapons.
"They are negotiating now, the US and Russia negotiating an agreement to cut their nuclear arsenal to one third by the end of the year…. We should focus on abolishing this nuclear weapon not only in one region but in the entire globe."