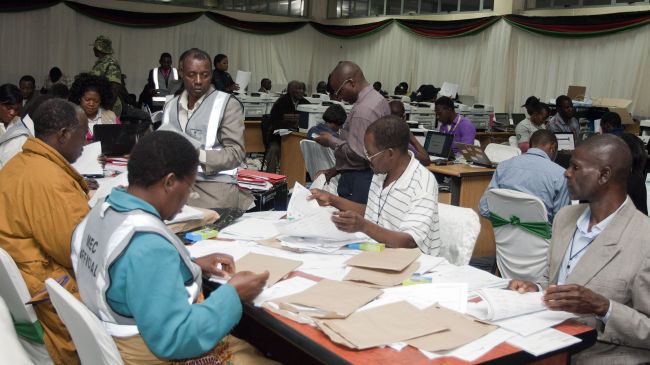 A dispute over the recent presidential election in the southern African state of Malawi has deepened as the country's High Court rejects a decision by incumbent President Joyce Banda to annul the election while electoral authorities order a recount of the votes.
Earlier on Saturday, while preliminary results from the election were surfacing, President Banda declared the election null and void, citing "rampant irregularities." The exit polls then showed that Banda's rival Peter Mutharika had received 42 percent of the votes while she had received 23 percent.
Later on the same day, however, Malawi's High Court issued an injunction against the president's decision to annul the vote. The court ruling was made after lawyers representing the Malawi Electoral Commission (MEC), the Malawi Law Commission and the Democratic Progressive Party (DPP) filed an application against Banda's decision on the grounds that she did not have the legal authority to nullify the election.
In a related development, the MEC, which had opposed President Banda's nullification of the election, suspended the announcement of the poll results because – it said – the number of the ballots counted went beyond the number of registered voters. The MEC thus ordered a recount of the ballots.
The MEC reassured that law would take its course if the allegations of voting irregularities were proven.
Malawi has 7.4 million registered voters and a total population of 16 million.
Banda became southern Africa's first female head of state two years ago.
On Saturday, after raising concerns that the election results have been tampered with, Banda called for a new election to be held in 90 days, and stressed she would not run in the new election.
Banda's declaration that the recent election was null, however, sparked protests by the supporters of Mutharika.
Mutharika himself said, "There is no legal basis for stopping the election. We have become a laughing stock and the sooner it ends, the better for us."