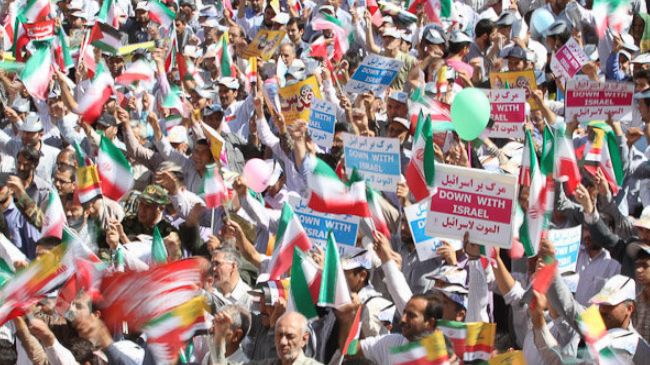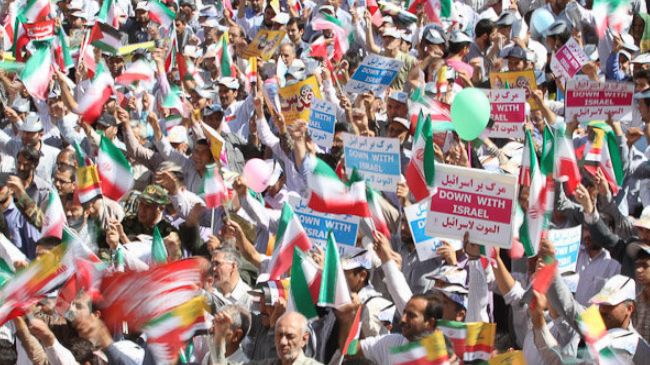 The International Quds Day rallies in the Iranian capital, Tehran, have concluded with demonstrators calling for the obliteration of the Zionist regime as the only solution to the Palestinian issue.
Millions of enthusiastic Iranians in more than 550 cities and towns took to the streets on Friday to express the Islamic Republic's solidarity with the oppressed Palestinian people, and also to voice their anger at the policies of the hegemonic powers.
At the end of rallies in Tehran, a statement was issued on behalf of the Iranian nation, in which the demonstrators said that the key to the liberation of al-Quds and freedom of the Palestinian nation is "unity among Muslims and the full support for the Islamic resistance and Palestinian Intifada."
The statement said that the only solution to the Palestinian issue and the problems in the Middle East are "the obliteration of the Zionist regime, the Zionists' withdrawal from the occupied lands and the return of all Palestinian refugees from around the world to their homeland."
The statement said that all Palestinians must be allowed to participate in a "free referendum" to determine the future of Palestine.
The resolution further said that Hezbollah and Hamas-style resistance in the 33 and 22-day wars was the only way to confront the Israeli regime.
The resolution also called on Egypt's new government to cancel the Camp David pact with Israel to speed up the collapse of the Tel Aviv regime.
The late founder of the Islamic Republic, Imam Khomeini, declared the last Friday of the Muslim fasting month of Ramadan as the International Quds Day, during which Muslims across the world hold rallies to show their solidarity with Palestinians.