Iraq
Enemies of Unity in Iraq non stop stirring Iraq-Attacks kill over 30 in Iraq's Kirkuk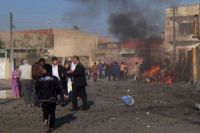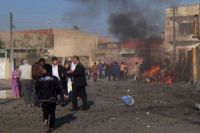 Over 30 people have been killed and about 70 others wounded in coordinated attacks on police headquarters in the northern Iraqi city of Kirkuk.
According to Press TV, the attacks were carried out on Sunday when gunmen stormed a police compound in the center of the city after a car bomb went off near the building.
Brigadier General Natah Mohammed Sabr, the head of Kirkuk's emergency services department, said the strikes had caused massive damage to nearby buildings.
He said it seemed that the attackers, armed with guns and grenades, had sought to take control of the headquarters in the chaotic aftermath of the car bombing.
Meanwhile, a police source inside the compound said, "Two gunmen wearing explosive vests tried to storm into the Kirkuk police directorate, but guards at the main guard engaged them and killed them."
No group has claimed responsibility for the attacks.
Kirkuk, which lies at the center of a territorial dispute between the central government and Iraq's autonomous Kurdistan region, has been the scene of several deadly attacks in recent months.