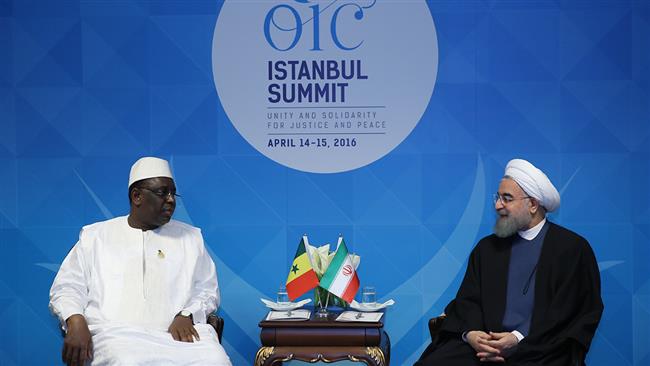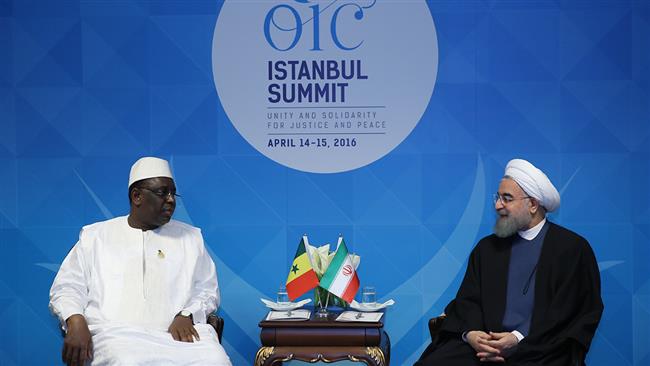 Iranian President Hassan Rouhani says causing division among Muslims and using terrorist groups against them are two major plots against Muslim nations.
"Today, the enemies of Muslims are seeking to foment a massive plot to sow discord and division in the Muslim world on the one hand and use terrorist groups claiming to advocate Islam as an instrument on the other," Rouhani said in a meeting with Senegalese President Macky Sall on the sidelines of the 13th summit of the Organization of Islamic Cooperation (OIC) in Istanbul, Turkey, on Friday.
The OIC member states must help strengthen unity among Muslims under the present circumstances, the Iranian president added.
He deplored the spread of terrorism and violence in the Muslim world and said Iran has always helped countries fight against terrorism "and this is while we should have a serious and collective approach to defeat terrorists."
Rouhani also said Iran lends credence to the expansion of relations with African states and expressed Tehran's readiness to boost ties with Senegal in various economic, scientific, cultural, medical and health sectors.
He said Tehran and Dakar must hold consultations in international issues including ways to reinforce security in the Middle East and North Africa.
The Senegalese president, for his part, said terrorist groups have nothing to do with Islam and expressed his country's interest in cooperating with Iran in the fight against terrorism, extremism and violence.
Sall also called for the expansion of economic cooperation with Iran.
Role of Iran-Brunei ties in relations with ASEAN
In a separate meeting, the Iranian president said the expansion of ties between Iran and Brunei would play a leading role in strengthening the Islamic Republic's cooperation with the Association of Southeast Asian Nations (ASEAN) member states.
In a Friday meeting with Sultan of Brunei Hassanal Bolkiah in Istanbul, Rouhani added that the two countries are firmly determined to bolster cooperation regarding developments in the region and in the Muslim world.
"Tehran and Bandar Seri Begawan can have good cooperation in different fields including technical and engineering services, energy and petrochemical industry as well as settlement of regional and international issues like the campaign against extremist thoughts," the Iranian president said.
The Sultan of Brunei, for his part, said extremism and terrorism are common challenges to all Muslim countries and called for collective cooperation against the two phenomena in a bid to present a realistic image of Islam.
Bolkiah added that Iran and Brunei should expand relations in all sectors.
The 13th OIC summit opened in Istanbul on Thursday under the theme, "Unity and Solidarity for Justice and Peace."
The OIC is the second largest inter-governmental organization after the United Nations which has 57 member states spread over four continents.