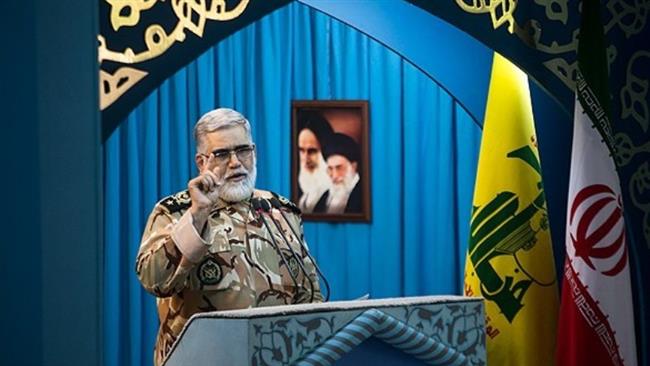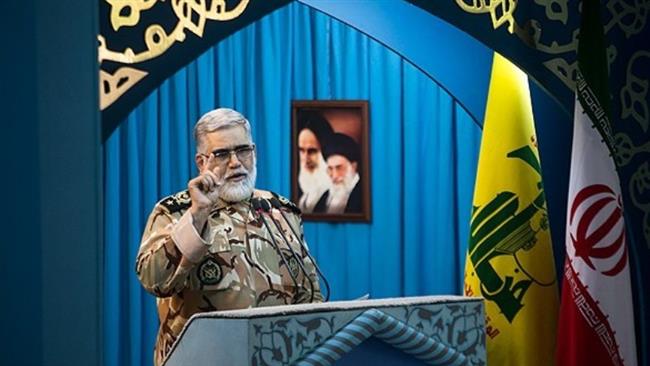 A senior Iranian military commander says the country's Armed Forces are fully prepared to counter enemies and will never be astonished by their moves.
"The intelligence forces of the Army and the Islamic Revolution Guards Corps (IRGC) have the slightest moves by Takfiri groups on their intelligence radar and any threat on their part will be defeated behind the borders," Commander of the Iranian Army's Ground Forces Brigadier General Ahmad Reza Pourdastan said in the pre-sermon address to worshippers at the weekly Friday Prayers in Tehran.
He added that Iranian intelligence experts are analyzing all the enemy's moves on the ground, at sea and in air, and defense capabilities are developed to dispel the enemy threats.
The commander said Takfiri groups are currently the main threat to the country and reiterated the Army's full preparedness to counter them.
Pourdastan emphasized that the "proxy war" waged by Western powers in support of Takfiri groups is a threat against Iran, which would be repelled outside borders.
The Iranian commander's remarks came a day after Defense Minister Hossein Dehqan said Iran's military forces are fully prepared to defend the country and make any aggressor regret their action.
"Iran's Armed Forces have proved that they will make regional and extra-regional powers regret if they lay greedy eyes on this country," Dehqan said in the northern Iranian city of Bandar Anzali on Thursday.
The Islamic Republic has conducted a number of drills to enhance the defense capabilities of its Armed Forces and to test modern military tactics and equipment.
The IRGC wrapped up three-day large-scale security drills, code-named "The Great Prophet (PBUH)," on April 14 in the southeastern Sistan-and-Baluchestan Province.
Iran has repeatedly assured other countries that its military might poses no threat to other states.