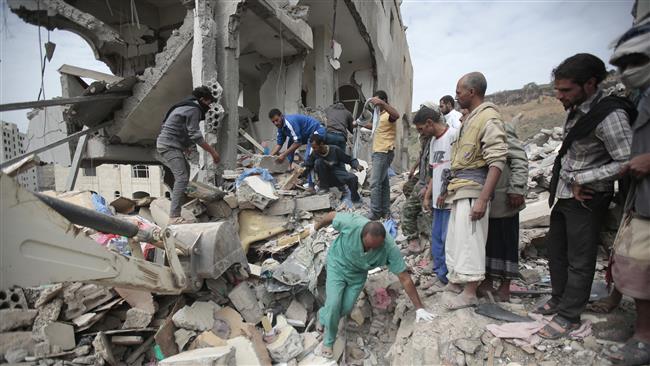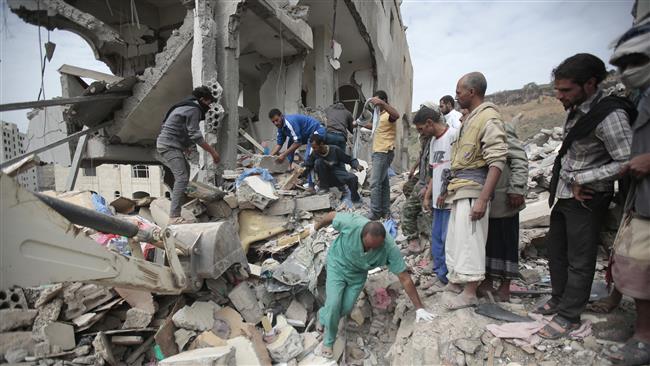 The Saudi-led airstrikes against Yemen have killed 11 civilians in the northwestern province of Sa'ada amid the escalation of war against the impoverished country.  
Saudi jets targeted residential areas in Ghamr District, killing eight people, including two women and a child, Yemen's al-Masirah TV channel reported on Thursday.
Three civilians were also killed in another Saudi airstrike against Razih District.
On Wednesday, More than 50 people were killed and over 80 others wounded during Saudi airstrikes against the Yemeni capital, Sana'a, and other cities in Sa'ada and the southwestern province of Ta'izz.
Saudi Arabia, propelled by a constant flow of US and UK arms supplies, spearheads a military campaign that has been incessantly pounding Yemen since March 2015 in an attempt to crush Houthi Ansarullah movement and reinstate the former president, Abd Rabbuh Mansur Hadi, a staunch ally of Riyadh.
According to latest figures, the war has so far killed over 12,000 Yemenis and wounded thousands more. The Saudi aggression has also taken a heavy toll on the country's facilities and infrastructure, destroying many hospitals, schools, and factories.
The World Health Organization figures show that around 960,000 suspected cases of cholera and 2,219 deaths have been documented since the deadly epidemic broke out in April in the impoverished country, where 8 million people also face war-triggered famine.
On November 6, Saudi Arabia announced that it was shutting down Yemen's air, sea, and land borders, after Yemeni fighters targeted an international airport near the Saudi capital of Riyadh with a cruise missile in retaliation for Saudis' devastating aerial bombardment campaign against Yemen.
The crippling blockade has exerted further pressure on Yemeni people, who receive desperately needed humanitarian assistance through the western port city of Hudaydah and an international airport in the capital Sana'a, both under the tight siege.
The UN has already made a plea for the coalition to lift its blockade, warning that without aid shipments "untold thousands of innocent victims, among them many children, will die" and that its partial lifting was not enough.