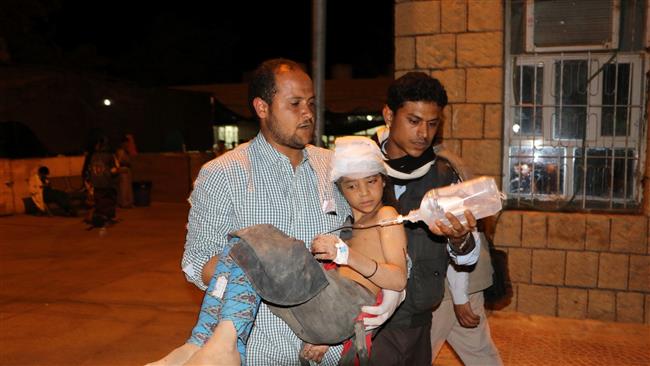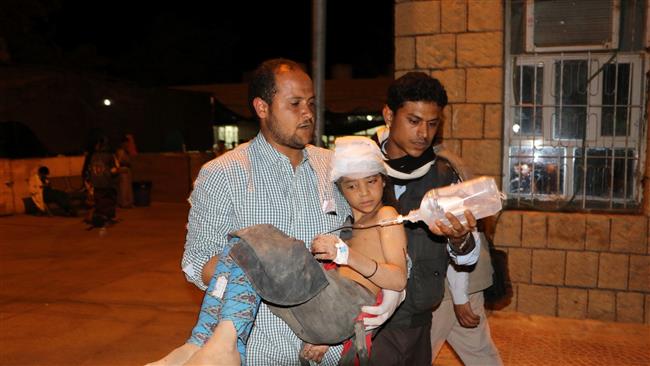 Eight children and two women have lost their lives in a fresh Saudi aerial attack on Yemen's northwestern Sa'ada province.
Four people were also injured in Wednesday's airstrike that hit a residential area in Sa'ada, Yemen's Arabic-language al-Masirah television network reported.
Additionally on Wednesday, Saudi warplanes bombarded the Yemeni districts of Dhubab, Harad and Munabbih, situated in the provinces of Ta'izz, Hajjah and Sa'ada, respectively.
The Wednesday airstrikes were carried out a day after similar raids on Nihm neighborhood of Sana'a province killed all members of a family.
In retaliation for the deadly Saudi airstrikes, 20 Saudi mercenaries were slain in mortar attacks conducted by the Yemeni army and Yemen's Houthi Ansarullah movement in the north of Midi Desert in Hajjah. Yemeni army snipers further shot dead five Saudi officers in an unspecified location.
Saudi Arabia has been leading a brutal military campaign against Yemen since March 2015. The kingdom has also imposed an aerial and naval blockade on its impoverished southern neighbor.
The Saudi aggression, which allegedly seeks to restore Yemen's ex-government to power, has killed over 12,000 Yemenis, according to the latest tallies.
4 killed in US drone attack on Yemen's Abyan: Official
Separately on Wednesday, a drone strike claimed the lives of four people in Yemen's southern Abyan province, a security official said.
Two missiles hit a vehicle on the outskirts of Abyan's Mudiyah neighborhood, killing all four occupants, who were suspected to be members of the al-Qaeda militant group, the official added.
Earlier this month The Wall Street Journal reported that US President Donald Trump had given the Central Intelligence Agency (CIA) new powers to launch drone attacks against suspected terrorist targets.
The authority was limited to the Pentagon under the former US administration.
Under the new measure, however, the CIA would require no permission from the Pentagon or even the White House before conducting a drone strike.
Reports say Washington has conducted dozens of strikes against what are claimed to be al-Qaeda targets in Yemen since March 2, when it stepped up its campaign in the Arabian Peninsula country.
The conflict-ridden state has been under regular US drone attacks, with Washington claiming to be targeting al-Qaeda elements while local sources say civilians have been the main victims of the attacks.