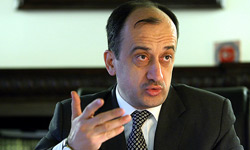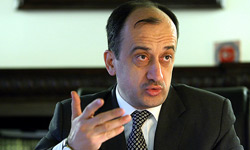 Turkey's Ambassador to Iran Umit Yardim pledged that Ankara will do its best to help release the Iranian pilgrims abducted by armed groups in Syria earlier this month.
Speaking at a meeting with Chairman of the Iranian parliament's National Security and Foreign Policy Commission Alaeddin Boroujerdi here in Tehran on Saturday, Yardim voiced Ankara's concern about the abduction of Iranian nationals in Syria.
"Ankara's government has paid special attention to help free the kidnapped Iranians and it will continue its efforts in future," Yardim stated.
The Iranian lawmaker, for his part, called on Turkey to use all its capacities to free 48 Iranian pilgrims.
On August 4, armed insurgents in Syria kidnapped 48 Iranian pilgrims who were traveling on a bus from Damascus International Airport to the shrine of Hazrat Zainab (AS) on the outskirts of Damascus.
Meantime, Iran is using all diplomatic, political and security means to release the 48 Iranian pilgrims.
Ever since the abductions took place, the Foreign Ministry and the Iranian embassy in Damascus have been pursuing the fate and release of the kidnapped Iranian nationals through different channels.
Iranian Foreign Minister Ali Akbar Salehi said earlier this month that Tehran is trying to free the Iranian pilgrims through Turkey's assistance, and added that he has held meetings with Turkish officials to ask them to do their best to help secure freedom of the Iranian nationals.
Speaking to reporters upon his arrival at Tehran airport after a visit to Turkey at the time, Salehi pointed to his talks with his Turkish counterpart Ahmet Davutoglu, and noted that the short visit came after his phone conversation with Davutoglu over the fate of the kidnapped pilgrims in Syria.
"All our efforts are aimed at the immediate release of the abducted pilgrims through Turkey's assistance given Turkey's contacts with some groups in Syria," Salehi stated, adding that Turkey had previously helped Iran free some of its nationals in Syria.
"This time, too, we try to obtain result through Turkey's help," Salehi stated.

Later, Davutoglu said Ankara would ramp up every effort to help secure the release of the Iranian pilgrims kidnapped by insurgents in Syria.
"Although Iran and Turkey have different views on Syrian developments, Ankara has always differentiated between political and humanitarian issues and has always been a pioneer in humanitarian issues," Davutoglu told reporters at the time.