Iran
Middle East
Pakistan
Envoy Warns of Third Parties' Attempts to Affect Iran-Pakistan Ties
Iranian Ambassador to Pakistan Seyed Mohammad Ali Hosseini warned that foreign hands are actively working to tarnish the friendly and close relations between Tehran and Islamabad.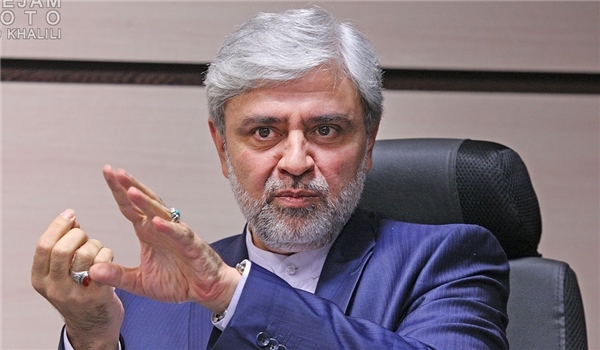 Iran and Pakistan which are tied in eternal bond of friendship must not allow external powers to weaken their ties and regional cooperation from thousands of miles away, Hosseini said, addressing a meeting with Pakistan-Iran Parliamentary Friendship Group headed by Syed Naveed Qamar at Parliament House on Wednesday.
The envoy said that the parliaments of the two countries could pave the way for broader public relations between Iran and Pakistan.
Qamar, for his part, thanked the stance of Iran and Iran's Supreme Leader Ayatollah Seyed Ali Khamenei on regional developments and Kashmir issue.
He also praised the active role of Iranian Parliament Speaker Ali Larijani in strengthening and enhancing bilateral and multilateral parliamentary cooperation between the two countries.
Last Monday, officials from Iran and Pakistan inked a new agreement to set up a new channel to electronically share all information on exchange of goods across common borders in a bid to ease bilateral trade and counter smuggling, and money laundering.
Officials from Pakistan's Federal Board of Revenue (FBR) and Iran Customs Administration signed a memorandum of understanding on electronic exchange of data, in a bid to curb misreporting.
Under the agreement, the two neighbors would trade documents on real time basis for exports of goods and advance information on goods and passengers at Taftan-Mirjaveh and other border stations.
FBR acting chairperson Nausheen Javaid Amjad said accurate valuation of the imported goods will lead to realization of greater revenues.
The implementation of the MoU would ensure availability of advance information about values, descriptions and quality of the goods to be imported into Pakistan from Iran and reduce costs on clearance of goods at the borders, she said.
Iran and Pakistan signed a preferential trade agreement in 2006 to boost exchanges but trade began to fall after 2008 because of Western sanctions on Tehran.
According to Pakistan Business Council (PBC), bilateral trade volume stood at $369 million as of 2018.