Turkey
Erdogan to Turkish People "wild extremists" for their Protests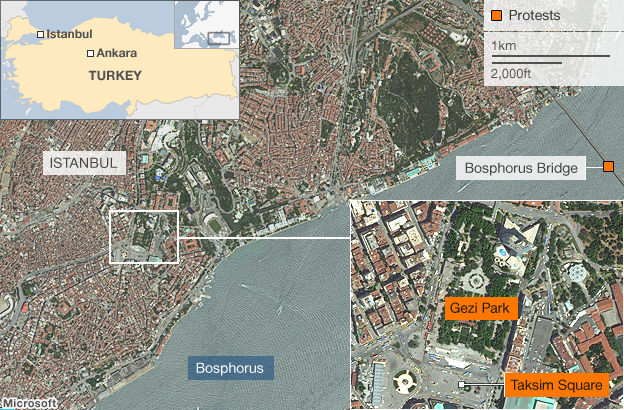 Turkey's PM Recep Tayyip Erdogan has vowed to press ahead with a controversial park redevelopment that has sparked violent clashes.
Mr Erdogan said he would not yield to "wild extremists" and urged an end to the protests.
Clashes over Gezi Park in Istanbul began on Friday and continued there and in the capital, Ankara, on Saturday.
Mr Erdogan has been in power since 2002 and some in Turkey have complained that his government is becoming increasingly authoritarian.
'Running wild'
Opponents of the plan to redevelop Gezi Park in Taksim Square say it is one of the few green areas left in central Istanbul.
But in a defiant speech to the exporters' union, Mr Erdogan insisted the project would go ahead, and that the historic Ottoman era military barracks would be rebuilt on the site as planned.
Referring to the protesters' fears that the site will actually become a shopping mall, he said one "might be built on the ground floor or a city museum. We haven't given our final decision yet."
Mr Erdogan vowed order would be restored "to ensure the safety of people and their property".
"Police were there (Taksim Square) yesterday; they'll be on duty today and also tomorrow because Taksim Square cannot be an area where extremists are running wild," he said.
He accused protesters of using the issue as an excuse to create tension and called on them to end their action immediately to avoid "further damage to visitors, pedestrians and shopkeepers".
Despite the damage done to property, the police force "continues to operate with the authority it was given," said Mr Erdogan.
Resignation calls
The protest began at the start of the week as a sit-in over the redevelopment plans but escalated after police used tear gas to try to clear them out. On Friday, a dozen people were admitted to hospital and more than 60 people detained as police and protesters clashed.
On Saturday, hundreds of demonstrators marched over the bridge connecting the Asian and European shores of Istanbul to try to reach the main square.
Police fired tear gas to try to disperse them and some protesters threw rocks.
Police also fired water cannon and tear gas in Taksim Square as demonstrators chanted "unite against fascism" and "government resign".

Clashes were also reported in the Besiktas district.
Protests in Ankara continued into Saturday
About half past one the entire city started to reverberate. People were banging on pots, pans, blowing whistles.
The BBC's Louise Greenwood in Istanbul says police from as far afield as Antalya are being drafted in to help quell the violence.
She says the central Taksim district and surrounding areas remain cordoned off and bridges are closed to traffic.
In his speech, Mr Erdogan criticised the "preaching" of foreign governments, saying they "should first look at their own countries".