Featured
Erdogan was booed and jostled by angry protesters and his aide kicked a mourning person brutally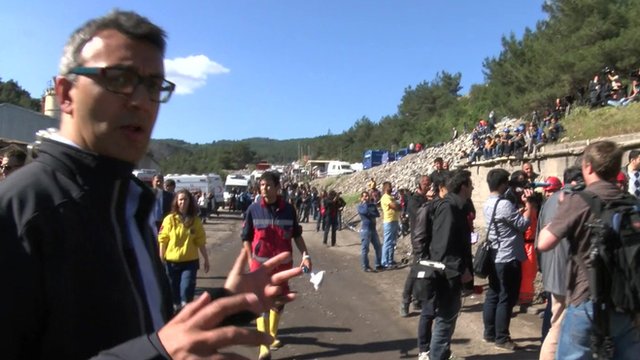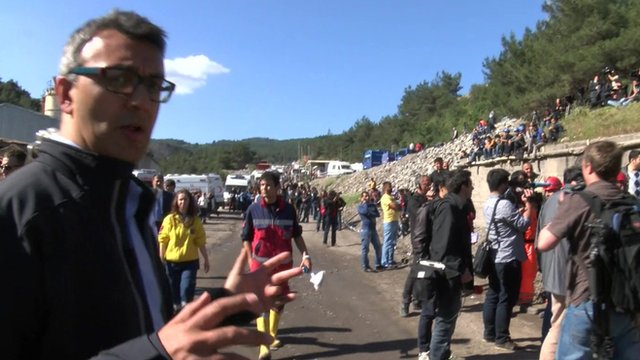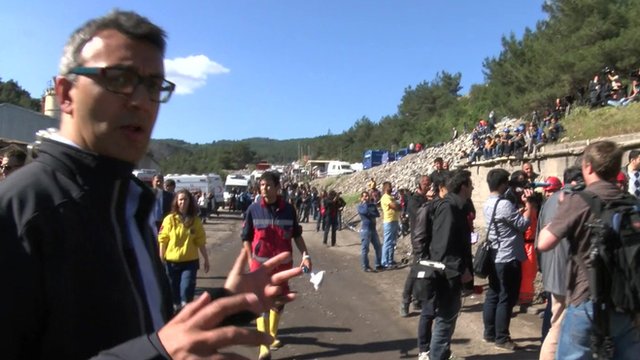 Trade unions in Turkey have announced a one-day strike in protest at the country's worst ever mine disaster, which has claimed at least 282 lives.
Union officials said the recent privatisation of the mining sector had made working conditions more dangerous.
President Gul is expected to visit the scene of the disaster, as Turkey begins three days of mourning.
Prime Minister Recep Tayyip Erdogan was booed and jostled by angry protesters during his visit to Soma on Wednesday.
The moment when People attacked Erdogan's car
For YouTube Link:
http://www.youtube.com/watch?v=yf4udcx0Lg8&feature=youtu.be
Video 1
For YouTube Link:
http://www.youtube.com/watch?v=XffoVp5lk5w&feature=youtu.be
Video 2
For YouTube Link:
http://www.youtube.com/watch?v=oRLMmDDWwTA&feature=youtu.be
Anger also erupted against the government in several cities around the country.
An explosion caused the pit to collapse on Tuesday, while 787 miners were underground.
Government officials said 363 miners were rescued in the hours after the explosion, but no survivors have been brought out since dawn on Wednesday.
Relatives of the missing are struggling to cope, as Orla Guerin reports
Energy Minister Taner Yildiz said eight more bodies had been recovered overnight into Thursday, taking the toll from 274 to 282. Around 150 miners remain missing.
Rescue operations had to be halted for several hours as high gas concentrations underground needed to be cleared, and Mr Yildiz said a fire in the mine was still hampering recovery efforts.
The head of the Confederation of Revolutionary Trade Unions of Turkey told journalists that several major groups of unions had agreed to the strike.
Arzu Cerkezoglu also called on citizens to wear black and march on the Ministry of Labour.
"Those who pursue privatisation… policies, who threaten workers' lives to reduce cost… are the culprits of the Soma massacre and they must be held accountable," said a statement by another group, the Public Workers Unions Confederation.
A further eight bodies were recovered by rescuers overnight
Hopes are fading for any more survivors
The names of the survivors are posted on this board
The Soma mine was privatised in 2005.
The government has been accused of rejecting a recent proposal for a parliamentary inquiry into mine accidents in the area, although officials say the Soma mine was subject to regular inspections, most recently in March.
After 30 people died in a mining disaster in 2010, Prime Minister Erdogan said: 'Unfortunately, this profession has this in its destiny.'" and the same statements for the big disaster also on May 13 in 2014
There were angry protests in Soma during Prime Minister Erdogan's visit. People booed him and kicked his car, and called for his resignation after he gave a news conference on the disaster.
Amid scuffles, he was pictured seeking refuge in a shop. The town's ruling AK party offices were also attacked.
However, it was Mr Erdogan's aide, Yusuf Yerkel, who made headlines on Thursday when photos emerged of him kicking a protester in Soma.
In the capital, Ankara, on Wednesday, police fired tear gas and water cannon at about 800 protesters who tried to march on the energy ministry. Water cannon was also used in Istanbul to disperse protesters in the main shopping street Istiklal.
Photos emerge of the prime minister's aide, Yusuf Yerkel, kicking a protester in Soma
The Soma office of Prime Minister Erdogan's AK party was damaged by protesters
There were violent protests in other cities on Wednesday, including Ankara and Istanbul
Mr Erdogan has faced criticism on social media for being insensitive, after he cited numerous mining accidents throughout the world, including in Britain in the 19th Century, in defending the Turkish government's record.
He said every effort would be made to find the missing miners, and promised a full investigation.
The BBC's James Reynolds in Soma says Mr Erdogan will see this tragedy as a test of his reputation, and he will be aware that the previous government lost an election after being seen to have mishandled the 1999 earthquake.