Middle East
Turkey
World News
'Erdogan's Christchurch comments reckless, offensive'
Australian Prime Minister Scott Morrison has censured latest "reckless" and "highly offensive" remarks by Turkish President Recep Tayyip Erdogan in the wake of a mass shooting which killed 50 people at two New Zealand mosques, warning that he consider "all options" considering bilateral relations with Ankara.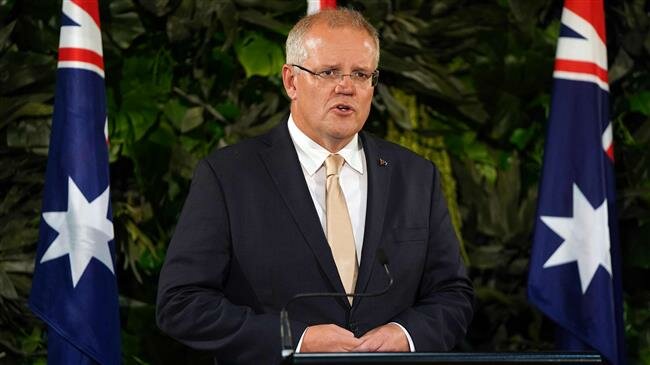 "Remarks have been made by the Turkish President Erdogan that I consider highly offensive to Australians, and highly reckless in this very sensitive environment," Morrison said on Wednesday after summoning Turkish Ambassador Korhan Karakoc and dismissing the "excuses" offered.
On Monday, Erdogan described the Christchurch massacre as part of a wider attack on Turkey, and threatened to send back "in caskets" anyone who tried to take the battle to Turkey's largest city of Istanbul.
"They are testing us from 16,500 km away, from New Zealand, with the messages they are giving from there. This isn't an individual act, this is organized," he said as he attended a ceremony marking the 104th anniversary of Battle of Canakkale, also known as the Gallipoli Campaign, in the northwestern Turkish city of Canakkale.
Erdogan also displayed extracts from a "manifesto" posted online by the attacker and later taken down.
He said the gunman, identified as 28-year-old Australian Brenton Tarrant, issued threats against Turkey and the president himself, and wanted to drive Turks from Turkey's northwestern, European region. "We have been here for 1,000 years and will be here until the apocalypse, God willing," Erdogan noted.
"You will not turn Istanbul into Constantinople," he highlighted, referring to the city's name under its Christian Byzantine rulers before it was conquered by Muslim Ottomans in 1453. "Your grandparents came here… and they returned in caskets. Have no doubt we will send you back like your grandfathers."
An analyst says Islamophobic media in the West are responsible for the deadly shooting at two mosques in New Zealand and that they should be held accountable for spreading anti-Muslim sentiments.
Victims laid to rest
Also on Wednesday, 44-year-old Khalid Mustafa and his 15-year-old son Hamza Mustafa became the first of the Christchurch shooting victims to be laid to rest.
New Zealand Police Commissioner Mike Bush said it was hoped most victims would be formally identified by the end of the day.
He said repatriation of victims was a priority for family, compassionate and cultural reasons.
The New Zealand prime minister has promised changes to firearms regulations in the wake of a brutal massacre.
"I want to assure people about how much we're doing in this area.  We have over 120 people involved in this process … whose absolute focus is reuniting these victims with their loved ones," he said.
Commissioner Bush further noted that the release of some bodies would "take a little longer," but reiterated family liaison officers were working closely with those affected.