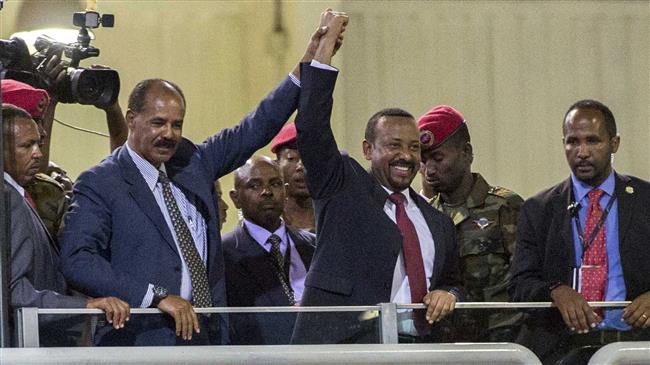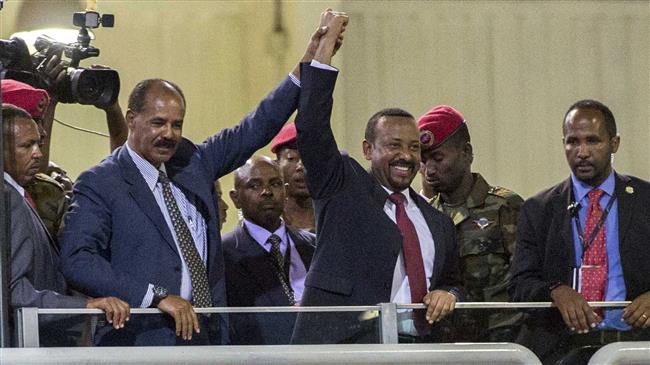 Eritrea has reopened its embassy in Ethiopia after the two African neighbors agreed to end two decades of hostility over of a bloody border war and begin a new era in their relations.
The Eritrean diplomatic mission resumed its activities in the Ethiopian capital, Addis Ababa, on Monday, during a brief ceremony attended by Ethiopia's Prime Minister Abiy Ahmed and Eritrea's President Isaias Afwerki.
The two leaders jointly raised the Eritrean flag inside the embassy and reaffirmed their commitment to cementing peace between their nations.
In a tweet, Eritrea's Information Minister Yemane Meskel described the reopening of the mission as "yet another milestone in the robust and special ties of peace and friendship both countries are cultivating with earnestness in these momentous times."
Abiy's chief of staff, Fitsum Arega, also took to Twitter and said better ties "will create the ideal conditions to address remaining strategic issues in the shared interest of the two nations."
The Eritrean leader, who had arrived in Addis Ababa for a three-day visit on Saturday, headed back home following the ceremony.
Afwerki's visit to Ethiopia came just days after he signed an agreement in his country with the Ethiopian PM on resuming ties.
The two East African neighbors had been in a "state of war" since they fought a border war in 1998, in which around 80,000 people were killed.
Though a peace agreement was signed two years later, Ethiopia refused to implement it, saying it wanted more talks.
The détente first began in April, when Abiy rose to power in Ethiopia and said he would accept and execute a boundary commission's ruling on the Eritrea border.