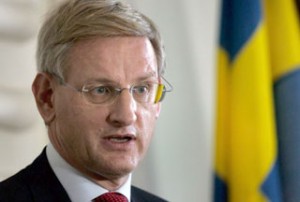 The European Union says it will discuss Palestine's demand to be recognized by the UN as an independent state, but has described the proposal as "premature".
Swedish Foreign Minister Carl Bildt, whose country holds the EU's rotating presidency, told reporters in Brussels that EU foreign ministers would discuss more support for the Palestinians at a meeting on Tuesday but said it was premature to discuss the recognition of a Palestinian state.
"I hope we would be in a position to recognize a Palestinian state but there has to be one first. So I think that is a bit premature… We would be ready to recognize a Palestinian state but conditions are not there as of yet," Bildt said.
The Palestinian Authority officials said earlier that they intend to seek support from the UN Security Council (UNSC) to recognize an independent Palestinian state in the West Bank and Gaza with Jerusalem (Al-Quds) as its capital.
"We are discussing other steps in order to demonstrate our support for the Palestinian aspirations more clearly than we have done so far, and clearly there is a need for that," Bildt said.
Israel however warned that declaring a state without concluding a peace agreement would lead to Israeli counter-measures that could include annexation of more of the occupied West Bank.