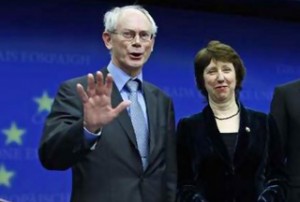 The European Union foreign policy chief has followed Washington's suit by threatening Iran with sanctions over its nuclear program.
In a Tuesday statement, Catherine Ashton said Tehran's decision to start enriching uranium to 20 percent could lead to further Western-brokered sanctions.
"Taking enrichment to the level of 20 percent adds to the deficit of confidence in the nature of Iran's nuclear program. This has already been aggravated by Iran's unwillingness to engage in meaningful talks," Ashton said.
"We continue to find it difficult to understand why Iran has not taken up the proposed (fuel swap) agreement," she said.
Her comments follow numerous occasions on which Tehran expressed its concerns regarding the proposed nuclear swap deal and its shortcomings.
The UN-drafted deal demands Iran to send the bulk its low-enriched uranium abroad for further processing of up to 20 percent for the Tehran research reactor, which produces medical isotopes for cancer treatment.
Iran has called for the swap deal to take place simultaneously, arguing that if it ships out the bulk of its enriched uranium there would be no guarantee to ensure that the promised fuel would eventually be delivered to the country.
That distrust can be traced back to the lack of commitment demonstrated by Western powers in their previous nuclear contracts with the Islamic Republic.
Tehran has been promised nuclear fuel for over 30 years now. Despite being a 10-percent shareholder and hence entitled to the European Gaseous Diffusion Uranium Enrichment Consortium (Eurodif)'s output, Iran has never received enriched uranium from France.
Tehran and Paris have also signed a deal, under which France is obliged to deliver 50 tons of uranium hexafluoride (UF6) to Iran — another obligation France has failed to meet.
As the powers ignored Tehran's concerns over the absence of necessary guarantees, Iranian Foreign Ministry Spokesman Ramin Mehmanparast said on Tuesday that the country could not wait the West to further "waste time" while some 850,000 cancer patients were in dire need of medicine.
Upon the order of President Mahmoud Ahmadinejad, Iran on Tuesday began enriching uranium to 20 percent at its Natanz enrichment facility to meet the demand.