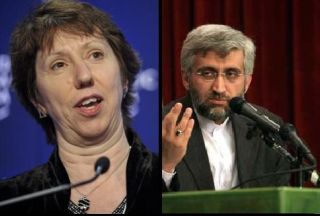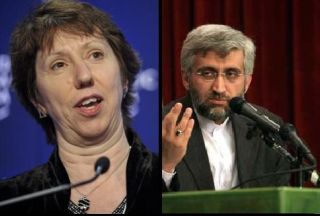 One week after Iran announced readiness for nuclear talks if its conditions are met, the European Union (EU) welcomes Tehran's willingness for negotiations with the West.
"I am glad to hear that you would be prepared to restart dialogue," EU foreign policy chief Catherine Ashton wrote in a letter to Iran's chief nuclear negotiator Saeed Jalili, Reuters reported on Wednesday.
"It follows that issues relating to the Iranian nuclear program must be the focus of our talks, though other subjects … could also be raised," she added, proposing EU and Iranian officials should discuss a time and venue for a meeting.
Ashton's letter came in response to Jalili's July 6 letter, in which he said that while Iran is still ready to resume talks with the group of six world powers, a number of conditions would first have to be met.
"Once the direction of the negotiations becomes clear, Iran will be ready for talks on constructive international cooperation to remove common concerns," wrote Saeed Jalili in response to a letter by Ashton in mid-June.
He went on to add that all parties must prove their commitment to the Nuclear Non-Proliferation Treaty's pillars of global disarmament, non-proliferation and the right to peaceful nuclear technology.
He also called for clarification on the nuclear ambiguity of Israel — widely believed to be the Middle East's sole possessor of a nuclear arsenal.
Jalili's letter was in response to a letter by Ashton in which she called on Iran to resume negotiations with the P5+1 — the five permanent members of the UN Security Council and Germany.
Her letter came one day after the UNSC imposed new sanctions against Iran over its nuclear work.
Iran has criticized the move and said talks should be based on cooperation not confrontation.